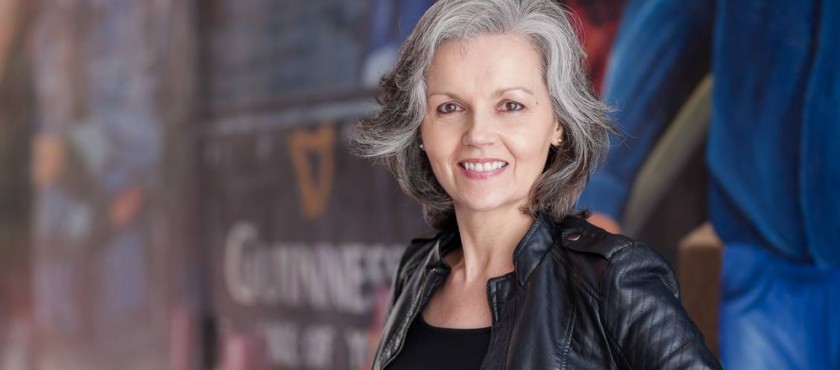 Denise O'Neill, Grey Is Ok
Forestside's Autumn Campaign goes live later this week and this year we have changed our format and decided that we would move away from the traditional model shoot and make our models more real and reflective of our customer profile. The finished results will be available very soon but we've put the spotlight on one of our models, the very beautiful and very brave Denise O'Neill. Denise has done what many of us 40+ women would love to do and ditched the dye and the end result is absolutely stunning. Denise is now a model with Cathy Martin's CMPR agency and chooses to let her natural grey hair take centre stage. The results are incredible. Here is Denise's story.
My Grey Story …
I didn't wake up one morning seven years ago and say to myself 'I fancy going grey today'. Nor did I make a plan in my life that when I hit my mid-40s I would stop dyeing my hair. No, it wasn't like that …
I had coloured my hair regularly since my mid-thirties with one of the well-known semi-permanent 'do-it-yourself' hair dyes, the products where you imagine that you could look just like the model on the box. And, though I never did look like the image on the box, for quite a few years I did feel confident in the way it made me look. I didn't have very many grey hairs, just a few around my temples, but the dye hid them nicely whilst giving my hair a lovely rich colour and texture. I felt that my hair looked good until there came an 'alarm bell moment' when I began to notice that I didn't look right—and some other factors came into focus too.
I was 45 and I began to notice that my dyed hair was becoming a harsh contrast against my face which was emphasising my wrinkles and paler skin. It was actually sucking the life from my complexion and making me look older. I observed too that, as is normal for women of the peri-menopausal phase of life, my hair was getting a little thinner, especially at the front and my scalp was more visible through the dyed hair. The frequency of the colouring applications was becoming frustrating as I had to colour my hair every two weeks to hide the grey roots. I used to get three to four weeks duration from my hair colour. I also resented putting chemicals onto my scalp which might not be a healthy thing to do. So, I said to myself, 'stop fighting it, let the colour grow out and see what I really look like'. So I gave it a go.
I got my bob-styled hair cut quite short, went cold turkey and let the colour grow out. With a lot of patience, it took me about a year to do it and return it to a bob again. During the transitional phase my hair was such a mess—a mixture of the old dyed colour, my new natural dark brown and the grey coming through. I found this period quite difficult but I could see the potential so I kept going. Each time I had a new cut I could see the grey/white strands of hair shining through more and more, harmonizing with my face, and this encouraged me to keep going. It was a metamorphosis on the inside as well as the outside as I felt in control of what I wanted to be. It felt liberating and empowering.Once I reached 'destination grey', I adapted to my new image and learnt to wear the right colours of clothing, make-up and jewellery to showcase it. I also learned how to care for my hair, keeping it well-groomed, having a nice style and using the correct products for grey hair.
Photo by Catherine McIlkenny
My 'Grey is OK!' Blog …
When I started out on my grey journey seven years ago there was very little guidance and inspiration on women and grey hair. In fact, I remember when I typed the words 'women and grey hair' into Google I got links on how to cover the grey, like it was something that we must hide at all costs, like we are letting ourselves 'go'. So, in September 2011, I decided to create a blog: Grey is OK! http://greyisok.blogspot.co.uk/  I wanted to create a simple site that women could visit to learn about my experience of going grey and what I had learned along the way. I imagined myself in their position pondering the notion of stopping the dye and researching the internet to find guidance and inspiration. I wanted my blog to be simple, honest and straightforward. My blog has grown and developed over the past four years and I have had wonderful positive feedback from other women which makes it all worthwhile.
Nowadays, the tide is changing and there are many websites, blogs, articles, Facebook groups, etc, for women and grey hair and this is groundbreaking.
Photo by Gavin Byrne, Red River Studios
The Grey Revolution …
Hair is only hair, whether grey or dyed, but it matters to us and features highly in how we present ourselves to the world. It's all about choice and diversity. Whether a woman dyes her hair or goes grey is her, and only her, decision. But, she has to feel confident and comfortable with her decision.
In the past, when we thought of grey hair on women, we thought of the 'little old lady' image. Times have changed and many women want to be able to choose grey with confidence. Many are tired of being a slave to the dye, of the long and expensive hair salon appointments, of putting chemicals on their scalps, etc. Nowadays, many women are making the conscious choice of going grey and they are choosing to showcase it at its best in the way they dress, in their hair style and in how they accessorise. It is the whole package that makes the impact.
Photo & main image by Vanessa Mills, Naturalistas Project
Many women have dyed their hair for many years - some from when they were a teenager – and they don't know what their natural hair looks like. Grey is really one of nature's best kept secrets. I always say that if you go grey and you don't like it, you can always colour again. It really is that simple.
I am looking forward to my ongoing journey and watching all the further changes to come in my natural hair colour. I don't know how my shades of grey are going to look as each year passes but I love the fact that I don't know. It's going to be a lovely surprise. It's nature's gift to me!
Phot by Vanessa Mills, Naturalistas Project
Modelling and the Forestside AW15 Campaign
During 2014-2015 I did some photoshoots with very talented photographers and built up a portfolio of pictures. In July I sent them to Cathy Martin who immediately registered me as a model with her agency CMPR http://www.cmprireland.com/.
When I was invited to model for the Forestside AW15 nothing in the world was going to stop me. I got to meet and work with a lovely team of people who were so friendly and professional. I enjoyed every minute of working and interacting with my fellow model Garry Jackson, a real gentleman with a great sense of fun. And, I got to wear a beautiful autumn/winter outfit just oozing with glamour. I feel so honoured to be given the opportunity to represent the older woman in the campaign and to demonstrate that fashion is glamorous at all ages.
I enjoyed my walk in the woods – hope you do too!
Thank you Forestside!
Photo by Vanessa Mills, Naturalistas Project