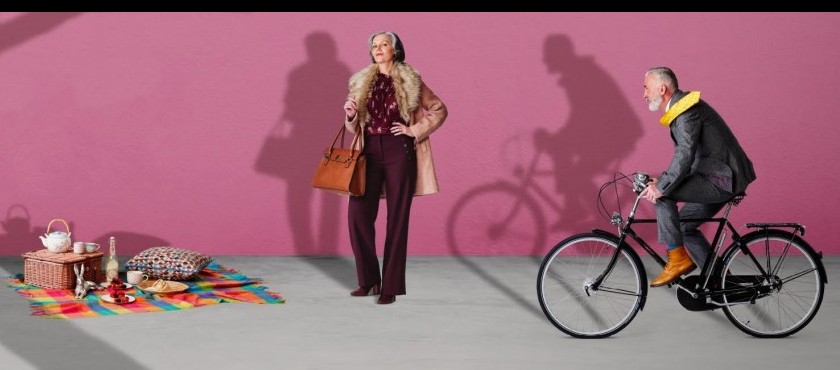 Garry Jackson, Forestside model and a true gent.
Our Autumn campaign has launched this week amid huge interest as we have taken a different direction from the usual seasonal Look Book and decided to photograph models who truly reflect Forestside's customer profile. We wanted to photograph real, local people with a story as opposed to professional models who can sometimes portray an unachievable look for many of us. The shoot was a great success and we shot models from age 6 upwards, and even Monty the Great Dane, who was a true professional by the way!
One amazing character to emerge from the shoot was Garry, our dapper 50 something who will be familiar to many as owner of Garry's Barber Shop in Holywood. This man is impeccably dressed in his own inimitable style and flawlessly well groomed, perfect model material but much, much more than that – Garry has a long established business in Holywood High Street which has become a true hub of the community and together with his wife Mari and his staff he uses his popularity to make a really positive contribution to the community of Holywood.
Community is very important to Garry, he has been in business in Holywood for 26 years and is proud of the fact that he now cuts the hair of three generations of the same families. He says that being a barber is much more than cutting hair and prides himself on building long term relationships with his customers.
He has a love of music dating back to the punk days and has evolved the Barber Shop into an artistic space where young and old alike can come down for a jam or busk outside or in the shop. As well as established local musicians like Ken Haddock he has given really talented young musicians such as George Robinson and Ben Cutler a platform to have their material heard on the streets and the public absolutely love it. Garry's is the perfect place to relax and enjoy whilst being pampered.
Garry and Mari's love of music and significant charity work has grown to the point where Mari now organises Holywood Blues & Jazz Festival and Holywood Culture Night without government sponsorship and purely with support from Holywood's business community. These events are massive in Holywood and a real compliment to the respect that Garry and his team have in the town.
Thank you Garry for a fantastic photo shoot for Forestside, a pleasure to meet such a true Gent with a fantastic business and love of the community.