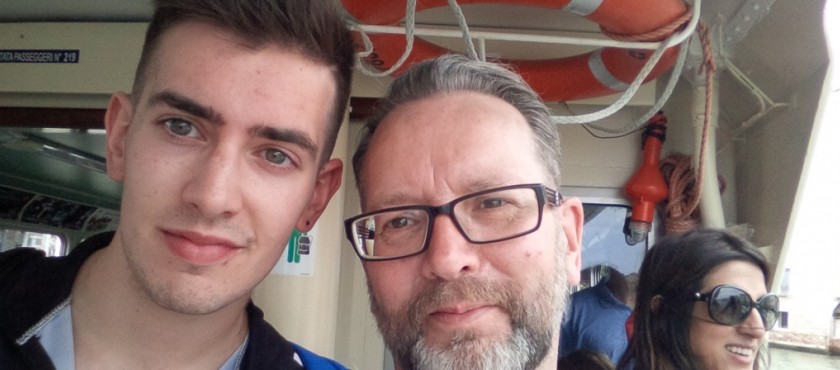 Team Forestside on Tour: Gordon & Ben's Italian Adventure
Sainsbury's own Gordon Hughes and son Ben realised their longterm dream this summer when they took their bikes on a tour round Italy and their trip has left us all insanely jealous.
Their road trip began in Treviso but it was swiftly off to beautiful Venice where, after enjoying the breathtatking wonder of the floating streets and buildings, they took to their bikes again and cycled the 66 miles to Vicenza via Padua. The 6 hour ride took in the breathtaking countryside with beautiful villas and incredible architecture in glorious August sunshine but Vicenza was a very brief stop, then off to Verona for the next three days.
From Verona, next stop was Lake Garda, now we're really beginning to hate you guys!! Only joking! The beauty of Lake Garda was evident as they did a bit of free advertising for Team Forestside abroad.
After the stunning beauty of Garda it was off to Monza via the Mille Miglia Museum at Brescia.
Gordon and Ben arrived in Monza in time for the Italian Grand Prix which was yet another highlight of this magical trip.
Then it was on to Milan and finally to Bergammo but not before taking a peak at some rather nice cars along the way!
This father and son team have had the most wonderful experience together and would highly recommend the trip to anyone. Gordon is more than willing to give advice to anyone who would like to replicate their route in the future and they are even thinking about doing the trip again next year along with anyone who would be interested in joining them on their bikes. Now that they have completed the route they are familiar with the environment and are willing to act as tour guides so if you fancy a cycling trip around beautiful Italy in 2016, simply let us know and we will put you in touch with Gordon and Ben. 02890 494990 or lee@forestside.co.uk
Thank you so much Gordon and Ben for sharing this amazing experience with us, we suspect you may have quite a few more riders with you next time!