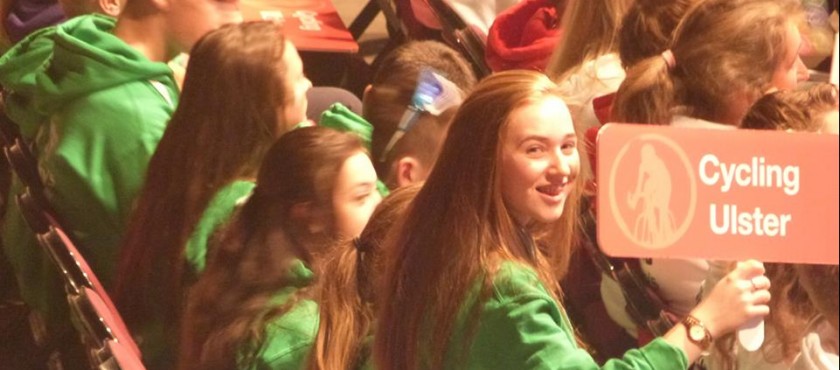 Katie makes Sainsbury's Games Team for Ulster.
Sainsbury's Games are a multi sport event for the UK's young elite athletes of school age and they have a strong record of providing a springboard for athletes who then go on to compete at a national level. Several School Games veterans went on to be part of the London 2012 Team GB and Paralympics GB and the current Games will give an insight into the make up of our teams for both 2016 and 2020. It is so exciting for any young athlete to make the squad and Katie, our young sponsored cyclist has achieved exactly that. 
This year, the games were held in Manchester from 3-6th September and Katie and her team mates were lucky enough to stay in the athletes village giving them the whole Games experience but it is with great sadness that we have to report that Katie had quite a serious accident on day one of the competition. A rider hit the top boards of the velodrome at speed, then spun out and caught Katie from behind bringing her down. Katie and her family spent the rest of the day in A&E and having been knocked out for a full five minutes, understandably suffered a concussion. She can't remember the crash at all but needed 50 or so splinters removed from her shoulder, hip and thigh. She quite literally took some of the Velodrome home with her as there are more splinters under her skin which could not be removed at the time. 
She was absolutely devastated by the crash but went back to the Velodrome that night and stayed in the athlete's village rather than with her family and she even tried to get up and race the following day but the doctors quite rightly put a stop to it because of the ongoing concussion. She spent the rest of the weekend helping and encouraging her team mates. 
She will need a new helmet, hers is ready to throw away but thank goodness she was wearing it as her injuries would have been much worse. Not the result she was looking for and we know she is very upset but this young lady has so much determination and sheer guts and she is still very young. We know Katie will be back very soon and next year will be quick to come around. Congratulations on your wonderful achievement of making the Sainsbury's Games team and we wish you well next season but the most important thing is that you are ok and that there hasn't been any lasting injury from the crash. Well done Katie, we're all immensely proud in Forestside. Get well soon.