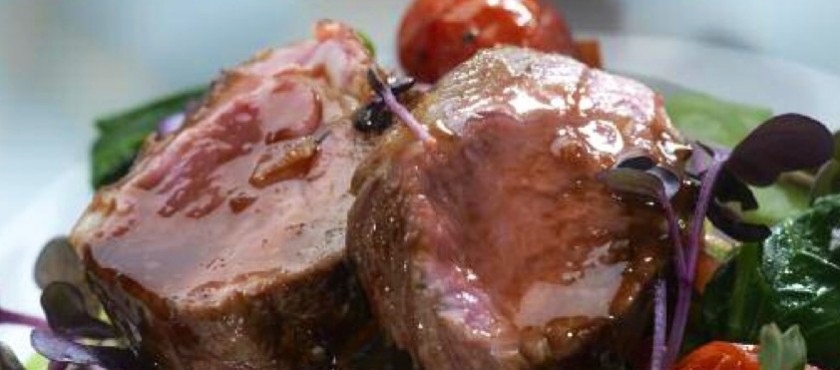 Chef Jeffers Summer Pop Up Menu.
Hi Forestside folk.We are now into August and not much of a summer up to now, but not to get too depressed, there have been some brilliant summer festival events around Northern Ireland and the more the merrier I say. I happened to be involved in North Down's fantastic Open House Festival last weekend with a series of pop up restaurant events at the award winning boutique guest house on Ballyholme bay,The Cairnbay Lodge and their new fantastic cafe The Starfish. Both nights were completely sold out within 32 hours and the evening went as follows; I greeted the guests, introduced the menu and then got back to the stove (where I belong lol). So why am I telling you all this? Simply to give you some of my latest summer recipes which appeared on the menu that evening.
Seaside risotto, crab, samphire & peas
Hay roast beef, curried lentils & sweet potatoes
Little pots of mango, coconut & passionfruit
So keep an eye on my website ref more pop ups in the planning. If you want the real thing www.chefstephenjeffers.com
Until the next time …
Chef Jeffers
Seaside risotto
60g risotto rice
1 shallot (diced)
1 garlic clove (grated)
40ml white wine
200ml fish stock
24g crab meat
12g butter
10g samphire (blanched)
10g peas
10g sour cream
1/4 lemon (juice & zest)
pea shoots
Method
1. In a non-stick pot cover with a little oil & half the butter. Add shallot and garlic, cook until soft.
2. Now add rice and glaze well, add zest & wine, reduce by half.
3. Now add stock over a 15 minute period stirring (now & again).
4. Finally add crab, sour cream, butter & chili and season well.
5. Garnish with lemon juice, crispy dulse & pea shoots.
Hay roast beef, curried lentils & sweet potatoes
2 -4 rump steaks (160g portion)
hay
Method steak
1. Leave beef in fridge for 1 day covered in hay then remove hay and roast it at high heat in oven until brown & crisp. Now blend into a powder.
2. Before cooking beef, season well on both sides with Maldon salt & black pepper. Place on high heat, brush with oil & cook 2 minutes each side, then into an oven for 7 minutes at 190c.
4. Now rest beef for two minutes, toss in powdered hay and slice before serving.
Lentils
40g puy lentils (washed)
1 shallot (diced)
1 clove of garlic (grated)
30g butter (diced)
1tsp of garam masala
200ml beef stock
coriander (chopped)
1/4 sweet potato (diced)
1/2 lime juice & zest
Method
1. Cook onion, 1/2 butter, shallot and garlic together until onion is soft. Cool well, now add spices and cook for another few minutes.
2. Now add stock and bring to a boil. Simmer for 5 minutes then add sweet potatoes & zest, simmer for 15 minutes until lentils are soft.
3. Finish with remaining butter, lime juice & zest and coriander. Season.
Serve with beef jus & curried yogurt.
Little pots
100ml passionfruit or mango purée
2 egg yolks
125g caster sugar
70g butter (diced)
1 tbsp of cornflour
Method
1. Place a Bain Marie on simmering heat. Place all ingredients into a bowl, mix well and place on Bain Marie .
2. Whisk over a low heat until passionfruit curd has thickened, pass through a sieve if egg has slightly curdled.
3. Pour into cooked tartlet case and place in fridge until set.
Sponge
50g self raising flour
50g icing sugar
50g butter (diced)
1/2 lemon (zest)
1 egg
pinch of baking powder
Method
1. Place butter and sugar in a bowl.  Cream until soft peaks, add zest & egg, mix well.
2. Fold in flour and baking powder, now prep a baking tray and fill.
3. Bake at 190c for 15 minutes.
4. When finished leave until cooled.
Mini coconut meringues
3 egg whites
175g caster sugar
Method
1. Place egg whites into a mixing bowl with half the sugar and whisk hard until stiff.
2. Now add remaining sugar and whisk again until stiff again.
3. Place into piping bag, pipe onto non-stick paper. Dust with coconut shavings and bake at 110c for 30 minutes.
Serve with diced mango, mint leaves, shaved coconut and Chantilly cream.