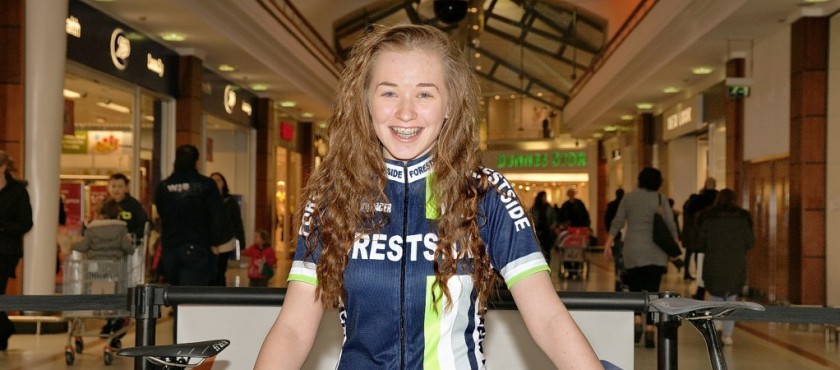 Katie's a rising talent in the world of cycling.
As part of the work Forestside does with schools in the Forestside Life Programme, we are supporting Katie Armstrong, a young, up and coming sports person, who through her inspiration and motivation is achieving great results in her chosen sport of cycling. Forestside have sponsored Katie with a specialised track bike to help her as she strives to achieve her goals. Katie will be helping us in return by providing a monthly blog of her journey, sharing her experiences and hopes with other young sports people encouraging them to take part, perform at higher levels and succeed in sport and life.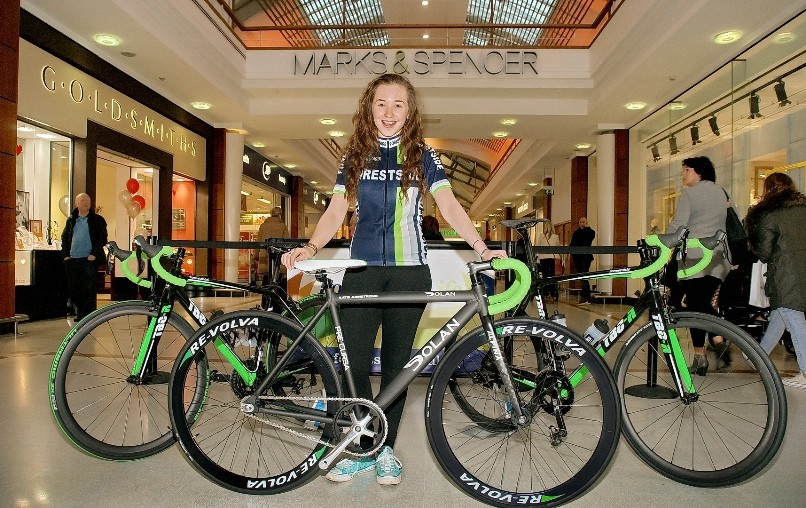 Katie Armstrong, a schoolgirl at Strathearn, is only 14 years old, but has already made those in the cycling world sit up and take notice.
When she is not at school studying for her GCSEs, she is pedalling out the miles as she trains for her next big challenge, which is to get on the Ulster track team to compete in the Sainsburys School games, a stepping stone to the Commonwealth Games.
At the age of 14, Katie has already moved up to compete in the under 16 age group, where she is not only holding her own at the greater distances and speeds; but recently, in the Ulster Selections, she was the only girl to achieve team selection.
Katie's passion for cycling started when she left Primary School and her mum and dad were keen that she took up some form of sporting activity. After trying running for a bit, she then took up cycling and got her first bike almost immediately and now cycles with her home club at North Down.
In 2012, she attended the London Olympics where she watched the track cycling events and that's what influenced her to make the move from road to track.
Training regularly at the Orangefield track in Belfast, she has also been over to the Velodrome Alkmaar in Holland, where as part of the Cycling Ireland talent team, she worked with the Dutch professional coaching team, as well as attending training courses with NI and GB Cyclist Wendy Houvenaghel. 
As her dad Scott says, "It's hard to keep up with her, not only the speed she goes at, but also all the many activities and interests that Katie is involved in" – but there is no doubt that Katie's parents are extremely proud of her achievements to date and know that with her determination and character, there is huge potential ahead. Dad also said, "The main thing is that she continues to enjoy what she is doing".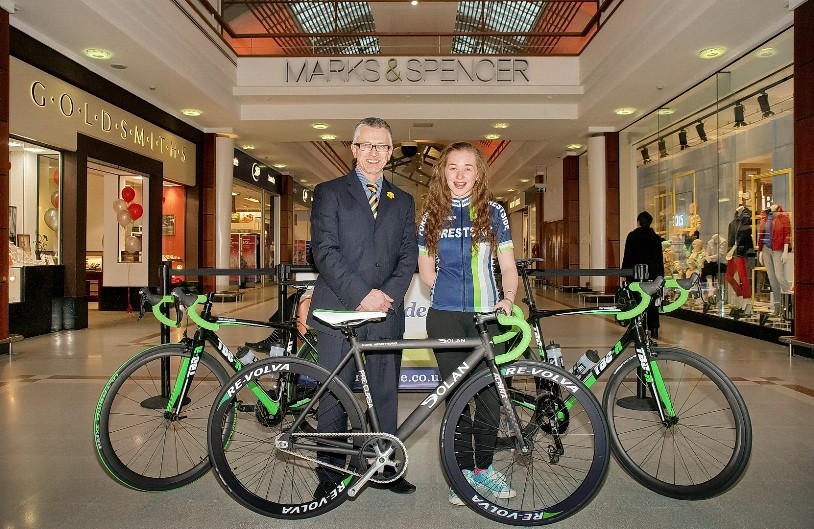 When Katie is not on the bike, she's in the middle of the Duke of Edinburgh Awards scheme, where she has three sections to complete:- Physical, which is obviously covered with her cycling, - Skills, where she helps on a regular basis with the local rainbows and Volunteering, where she helps with young children, training and playing water polo. After that she gets some time to hang out with her friends, shopping, going to the cinema and eating out.
Although, she maintains a healthy diet, watching what she eats with the help of top nutritionalist on the Irish development programme, as a treat, she loves chocolate, ice cream and cheesecake, but was very quick to state that her granny's cheesecake is 'absolutely the best'!
Looking to the future, in the short term Katie's big aim is to get on to the Ulster track team to compete in the forthcoming Sainsburys School games. There are of course many future challenges and goals along the road, but she already has the 2020 Olympics in her sights.
We wish Katie all the very best of luck with her aspirations and we have every confidence that she will realise her dreams in the not too distant future!
Team Forestside Youth Riders regularly ride out with the adults. Last Thursday saw the first of the year Youth ride out. Well done to David - our newest recruit who extended his maximum mileage from 3 miles to 22!
The full runs will start on Sunday's soon - weather permitting, along with the Forestside Lite Lite Team. Anyone interested in joining the Youth Riders or indeed any level of Team Forestside please feel free to get in touch.
lee@forestside.co.uk or 02890 494996.