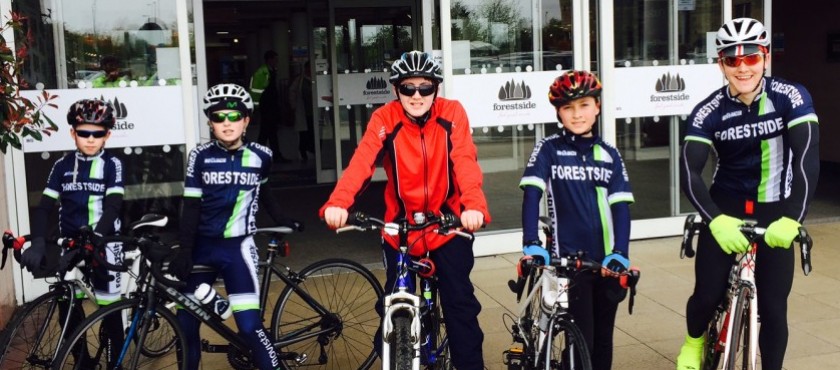 Forestside Youth Ride 10th May
Our youth team were lucky with the weather on Sunday, damp start and windy but on the whole warm and reasonably dry.
Coach Danny was away this week so Mark and Lee took the boys (Cameron, Mathew, David and Ben) out for a 30 mile spin. We were also joined this week by Sam from Castlereagh who was keen to see how the boys speed work was going.
We headed out down the Ravenhill road towards the Titanic Quarter where we hoped to do a few speed loops.We found a great 3 min loop and the boys went flat out for a couple of laps. Then time to settle and put a few miles on the clock. We headed out along the coast to Holywood for refreshments, (Sam decided to put some extra training in with a run up Church road while we had Crepes!)  Once refuelled we headed back for a couple more speed loops.
The boys again tackled a couple of laps with a brutal head wind. In fact they made it look so easy the big kids decided to give it a go! Sam led us out with Mark and me hanging on for grim death!
The plan was to do 3 laps flat out but once Sam forced a gap it was all over with Mark & I pulling in gracefully after 2 laps but no one told Sam who cracked on for another lap (enthusiasm of youth!) Once we regrouped it was a steady ride back to Forestside.
Well done to the boys who are coming on well and thanks to Sam for the guest appearance Next youth ride will be in two weeks time