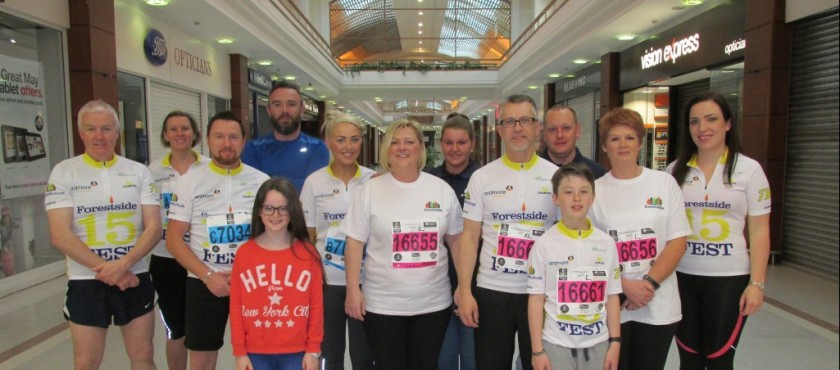 Belfast Marathon
Team Forestside turned out in force to take part in the Belfast Marathon. Two relay teams and six Fun Runners took to the streets amongst a rumoured 20,000 participants to run for CLIC Sargent. Team Forestside was made up of Forestside staff, customers and retailers, including James and Arron from Exotic Aquatics. The Fun Runners started first with Lee, Ben, Dee, Margaret, James and Arron all finishing safely and Lee, Ben and Arron loved it so much they then went on to race the final leg of the relay as well! Lee went on to comment, 'The 3 mile Fun Run was a great addition to the event as it allowed non athletes and children to get involved and added a real sense of humour to the day.'
2074 relay teams took part in this year's race amid patchy weather. They braved sun, rain and wind at different periods around the course but overall the conditions were not bad for running. Team Forestside's members ranged from age 10 right up to the eldest being Lee himself at 51. Rab Crandles, Stephen Reynolds, Garry Dunne, Maggie Hunt, Peter Gallagher, Yvonne Burke, John Burke, Sarah-Louise McClelland, Charlene O'Hare and Bernard Bogues all successfully completed the course with Lee, Ben and Arron joining up for the last few miles to the finish line.
We were lucky this year that we had laid on hospitality inside the CLIC Sargent tent. Sara, Trevor and Brian kept everyone supplied with tea, coffee, soup and hot dogs after the race which went down a storm with not just the Team Forestside members!
3,000 people ran the race for CLIC Sargent this year and final sponsorship totals have yet to be announced but thanks to everyone who took part, walking, running, hospitality and behind the scenes transporting equipment. It was a hugely successful event and a lot of fun for Team Forestside.