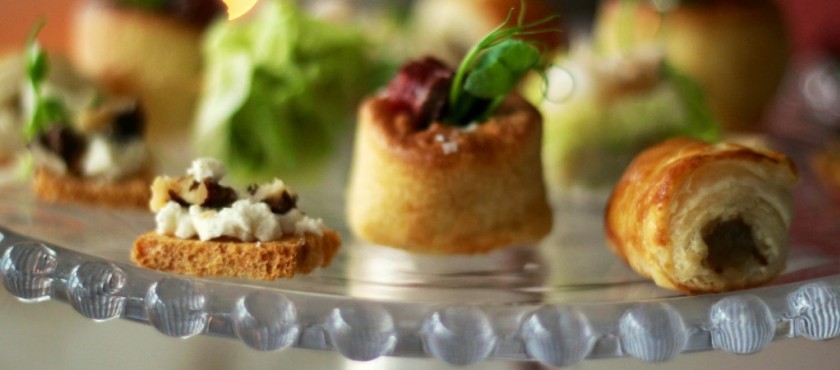 Party Food
Hi everyone. Yes it's that time of the year again, parties, food, too much drink and far too much expense. Let me show you really easy Christmas party food recipes where you can get the whole family involved. The ingredients don't cost a fortune to buy in and last but not least they're not mass produced at some factory somewhere, so keep it local at your house this Christmas .
The perfect party sausage roll
Makes 20-30 miniatures
100g puff pastry, (shop bought, ready rolled), 1 beaten egg yolk, 50g sausage meat (pork), 60g turkey mince,15g cranberry sauce, parsley (chopped), 10g chestnuts (chopped), 1 tsp water, salt & pepper.
Method
1. Place turkey mince & sausage meat into a bowl & season well.
2. Now add nuts, cranberry sauce, water & parsley.
3. Place into piping bag, brush puff pastry with egg yolk and pipe pastry with sausage meat.
4. Roll pastry into sausage shape & cut into mini rolls,egg wash well.
Bake 200c for 10 minutes. 
The mini Yorkshire pudding (mustard & pastrami )
20-25 minature puddings
Pudding mix
100ml egg (beaten), 100ml milk, 100g plain flour, salt & pepper,  50 ml oose fat/beef dripping or vegetable oil.
You need whiskey, mixing bowl & mini muffin tins. Set oven to 190c.
Method
1. Place flour into a bowl & season with salt and pepper.
2. Make a well in centre and slowly whisk in egg and milk until smooth.
3. Leave to rest for 30 minutes before using.
4. Now pour oil into muffin tins ,halfway up the tin moulds.
5. Place tin into oven and heat for ten minutes, pour mix into moulds half way up and bake for 20 minutes.
Dressing
30g whole grain mustard, 30g horseradish sauce, 1/4 lemon (zest), 1 tbsp of mayo.
Method.
Simply mix all together  well.
Garnish 
Mustard cress, 2 slices of pastrami cut into thin strips.
Genesis wheaten bread, Ewings smoked salmon & pickled beetroot .
Potted Salmon (hot & cold smoked)
24 mini portions
75g smoked salmon unsliced, 75g hot smoked salmon, 1/2 tbsp horseradish, 1/2 tbsp grain mustard, 1/2 tbsp zest & juice of lemon, 
dill (chopped), 1 tbsp creme fraiche, 2tsbp melted butter
Method 
1. Dice both salmons and put into a mixing bowl.
2. Add creme fraiche, mustard, horseradish, lemon & half the butter.
3. Season, add chopped dill & put into jar.
4. Add clarified butter.
Garnish with beetroot finely diced, fine strips of apple & serve with watercress and mini wheaten bread.
Mini cheese on toast .
Young buck cheese,red onion relish & rocket bruschetta 24 mini portions
100g young buck blue cheese (crumbled), 1 bag rocket leaves (picked & washed), 6 slices of crustless bread (toasted both sides)
Relish
1 red onion (peeled & sliced thinly), 25g brown sugar, star anise powder, 15ml white balsamic vinegar, 5ml olive oil
Method
1. Place some oil in a small saucepan. Bring up to a medium heat and add the onion. Cook for 10 minutes .
2. Now add the sugar & vinegar. Cook for 30 minutes until sticky and leave to cool.
3. Now toast bread in pan with oil & finish in oven until crispy.
4. Place red onions on top of bread, crumble over  cheese. Season with black pepper. 
5. Toss rocket in olive oil & lemon juice, place onions on bread followed by cheese & candied walnuts.
Crab cups. 
24 mini Crab Cups
35g cooked crab (white & brown meat)
4 gem lettuce (cut in quarters)
1 scallion (finely chopped)
1/4 lemon (zest & juice)
1/4 red chilli (finely chopped)
1 tbsp mayonnaise
1/4 avocado
1/2 lemon
parsley
Garnish
Diced avocado, lemon segments & parsley
Method
1. In a bowl mix crab, mayonnaise, zest, chilli & scallions.
2. Toast bread on both sides until really crisp.
3. Place spoonful of crab into lettuce cup with avocado, lime & parsley leaves.
I would just like to wish everyone a very happy & peaceful Christmas from myself and gang at BELFAST cookery school.
God bless for 2016.