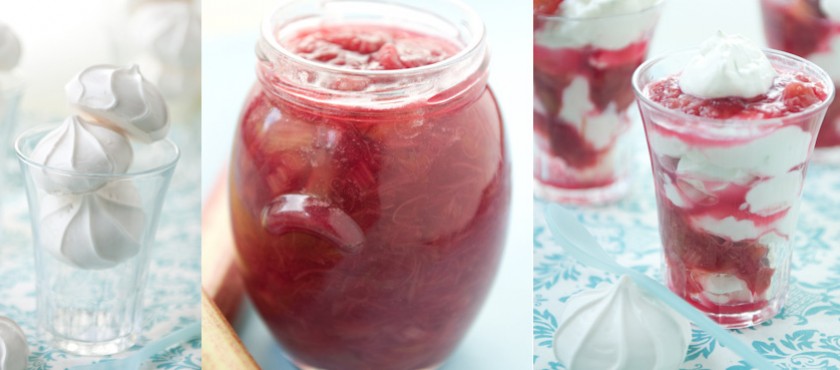 A fresh approach to Easter.
The sun has finally made a very welcome return and with Easter falling so late, it promises to be a fabulous holiday weekend. So if turkey's not your thing and you're not quite brave enough to dust off the barbeque why not try these fresh, zingy, new season recipes courtesy of the 'Taste Team' at Sainsbury's.
Chili prawn bruschetta
Serves 4                       Prep 5-10 mins    Cook  4 mins
2x 180g packs large cooked king prawns by Sainsbury's
1 red chili, washed and finely chopped
½ x 31g pack fresh coriander, washed and chopped
2 limes
3 tbsp sweet chilli dipping sauce by Sainsbury's
½ tbsp rice vinegar by Sainsbury's
1 clove garlic, peeled and halved
1 ciabatta loaf
1 tbsp olive oil by Sainsbury's
½ x 70g bag wild rocket leaves by Sainsbury's
Freshly ground black peppercorns
1.         Put the prawns in a bowl with the chilli, coriander leaves, the zest and juice of 1 lime, the sweet chilli and vinegar.  Crush one half of the garlic clove, stir in and let marinate for at least 5-10 minutes.
2.         Meanwhile preheat the grill to medium high.  Slice the ends of the ciabatta, then cut the loaf into 8 slices.  Brush both sides of the slices with the oil, then rub the remaining half garlic clove over each slice.
3.         Put the bread on a baking sheet and toast under the grill for 2 minutes on each side.
4.         Cut the remaining lime into wedges.  Stir the rocket through the prawns and spoon onto the ciabatta toasts.  Sprinkle with a twist of freshly ground black pepper and serve with the lime wedges to squeeze over.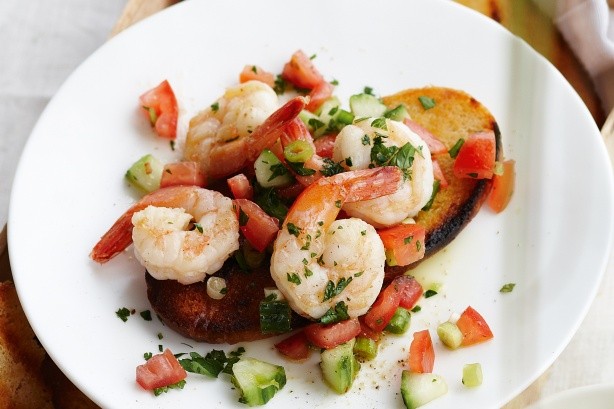 Zesty ricotta, bacon and tomato gnocchi
Serves: 4     Preparation time:  10 minutes                    Cooking time:  15 minutes
125g smoked bacon lardons by Sainsbury's
335g pack cherry tomatoes, halved
80g ricotta by Sainsbury's
100g British 50% less fat crème fraîche by Sainsbury's
1 lemon, zest and juice
28g pack fresh flat leaf parsley, chopped
300g pack dwarf beans, by Sainsbury's trimmed
500g pack fresh gnocchi by Sainsbury's
70g bag wild rocket salad, to serve
1.       In a frying pan, cook the lardons over a high heat until crispy, about 5 minutes. Add the cherry tomatoes for a minute, then remove from the heat.
2.       In a large bowl, mix together the ricotta, crème fraîche, lemon juice and zest and parsley. Stir into the bacon and tomato mixture.
3.       Bring a large pan of water to the boil. Add the beans for 2 minutes, then add the gnocchi for a further 3 minutes, until the gnocchi starts floating to the top.
4.       Drain, then add to the pan of sauce and stir gently to combine. Divide between 4 bowls and top with the rocket salad to serve.
COOKS TIPS:  Try frying strips of chicken with the bacon lardons or use baby potatoes instead of gnocchi.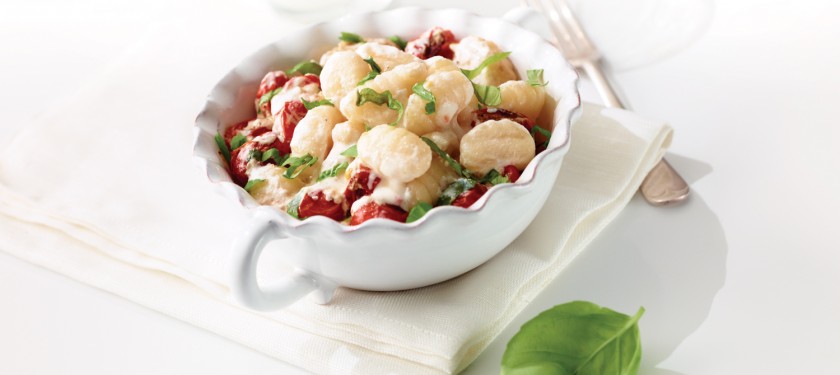 Rhubarb and orange Eton mess
Serves 4
2 large British free-range eggs by Sainsbury's, separated, whites only
110g Fairtrade caster sugar by Sainsbury's
1 tsp Fairtrade ground ginger by Sainsbury's
400g rhubarb, washed, trimmed and cut into 5cm lengths
1 orange, halved: 1 half juiced and zested, the other half peeled and cut into slices
2 tbsp runny honey by Sainsbury's
250ml British double cream by Sainsbury's
1.         Preheat the oven to 140°C, fan 120°C, gas 1 and line a baking sheet with baking paper.  Put the egg whites in a large, clean bowl.
2.         Beat together with a hand-held electric whisk for 4-5 minutes until soft peaks form.
3.         Add half the caster sugar and whisk until medium peaks form. Add the remaining sugar and continue to whisk for 2 minutes until you have a smooth, glossy mixture and stiff peaks have formed. Carefully fold in half the ground ginger.
4.         Spoon small rounds (about 2cm wide) of meringue onto the lined baking sheet, leaving space between to allow the meringues to spread slightly. Bake for 1 hour, then remove and let cool on a wire rack. When cool, lightly crush into pieces.
5.         Meanwhile, increase the oven temperature to 200°C, fan 180°C, gas 6. Put the rhubarb, remaining ground ginger, the zest and juice of half the orange and the honey in a bowl and mix thoroughly. Spread out on a shallow baking tray and roast for 15 minutes until the rhubarb is tender. Allow to cool.
6.         Pour the cream into a large bowl and beat with a hand-held electric whisk until just thickened. Fold in the crushed meringue and the cooled rhubarb. Spoon into serving dishes and top with the orange slices.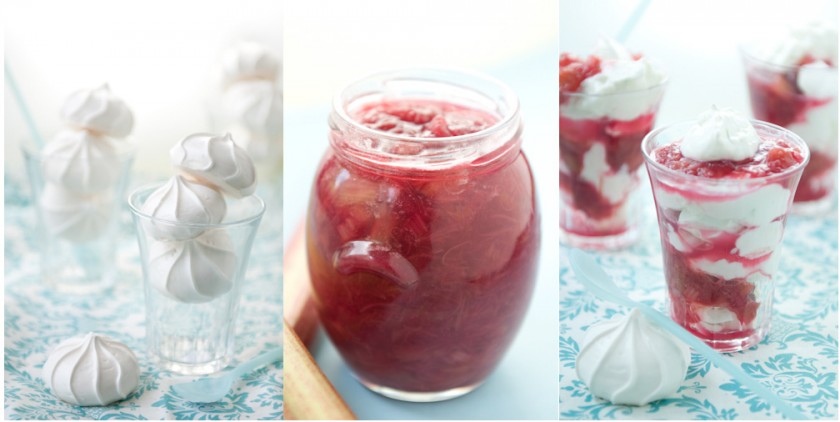 COOKS TIP:  For a cheats version try using 1 pack of ready made instore bakery meringue nests by Sainsbury's and add 1 teaspoon ground ginger to the rhubarb.
Feeling inspired?
We've got loads of great recipes to try out – find them at sainsburys.co.uk/livewellforless
Based on price perception data, you can live well for less than you thought at Sainsbury's. For more information go to sainsbuys.co.uk/livewellforless