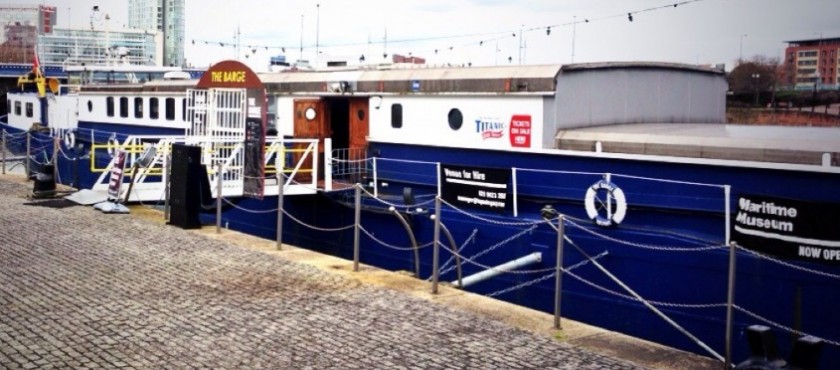 Diary of a Foodie, March.
ALL ABOARD FOR 'DRUNCH'!
 
My friend Seana coined the phrase 'drunch' .. you get the idea, it involves lunch and maybe a glass of Prosecco or two or let's just say it involves a lot of Prosecco and leave it there.
 
As the weather started to change for the better, we all felt like we wanted to try somewhere 'different'.  We opted for something a little more outdoorsy and that was .. a floating restaurant! 
 
So four friends, dressed with a slight nautical theme, as I love a theme, headed to Holohans on The Belfast Barge on the Lagan, just beside the Waterfront.  We walked the plank to get 'on board' and I have to say, we all loved the idea of getting on a boat for lunch. It's easy to forget it's there but I'm going to get right to it, it's well worth remembering.  This isn't your usual naff floating restaurant though, it's good.  Good, solid, great value, food. 
 
Funnily enough, m'lovely friend 'The Restaurant Pimp' also headed to Holohans that same weekend so I will leave it to him to do the 'proper' review (http://therestaurantpimp.com/?p=1786 )
 
They have two courses at lunchtime for £10 and the range makes it difficult to decide what to have.  I opted for crubbens (when was the last time you saw those on a menu?) with celery and apple salad and then the dish the restaurant specialises in.. boxty.  The crubbens had a perfect crispy crumb and salty pork interior.. my only issue was, they were huge and with a mother who lived through the second world war.. let's just say, I don't often leave anything on my plate!  The boxty, thinner than I thought it would be, came with a smoked seafood and chive cream filling.  It was more of a pancake than I had expected but tasty and again very filling.  My fellow 'drunchers' started with mussels, which were a hit, and the smoked salmon and prawn rissoles.  They then followed this with *all* the fish and chips with tartar sauce and each one of them devoured the lot.  We were very happy campers, or should I say, sailors!  We finished off with an Irish cheese platter for only £12 between four of us and it was a perfect ending.  I would add that we drank them out of Prosecco so if you are arranging a 'drunch', it may be an idea to call ahead.
One of the best bits about this restaurant is the view .. oh and the yellow submarine! As a city that is on the water, very little of it looks out at it, so take the opportunity of boarding The Barge at Holohans and enjoy not only great food, but views to match!  http://belfastbarge.com/Holohans/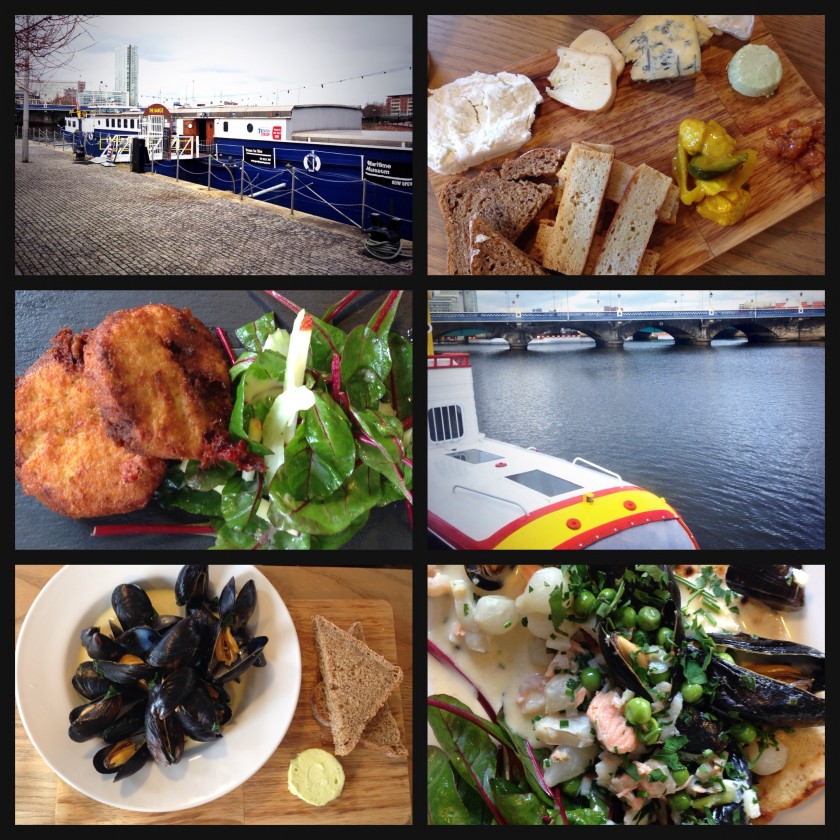 BRUNCH
 
Gosh, how well drunch rhymes with brunch! 
 
Continuing on from last month, I took another one for the team.. I know, it's hard work but someone has to do it.. This time it was Eggs Benedict at the Barking Dog on the Malone Road.  As an east-sider, I have to admit, the Barking Dog is not usually on my radar and more fool me!
 
The eggs were perfect, the hollandaise was perfect, the buns.. you see where I am going here.. Add to that a perfectly glorious, yes I said glorious, Bloody Mary and you have a very satisfying brunching experience.  If I ended there then that would be enough I hear you say, but there is more.. a lady singer who was soothing us through our perfect brunch!  Not too loud, as is ever the risk with live music on a weekend morning.  This brunch is going to be a hard one to beat!  http://www.barkingdogbelfast.com/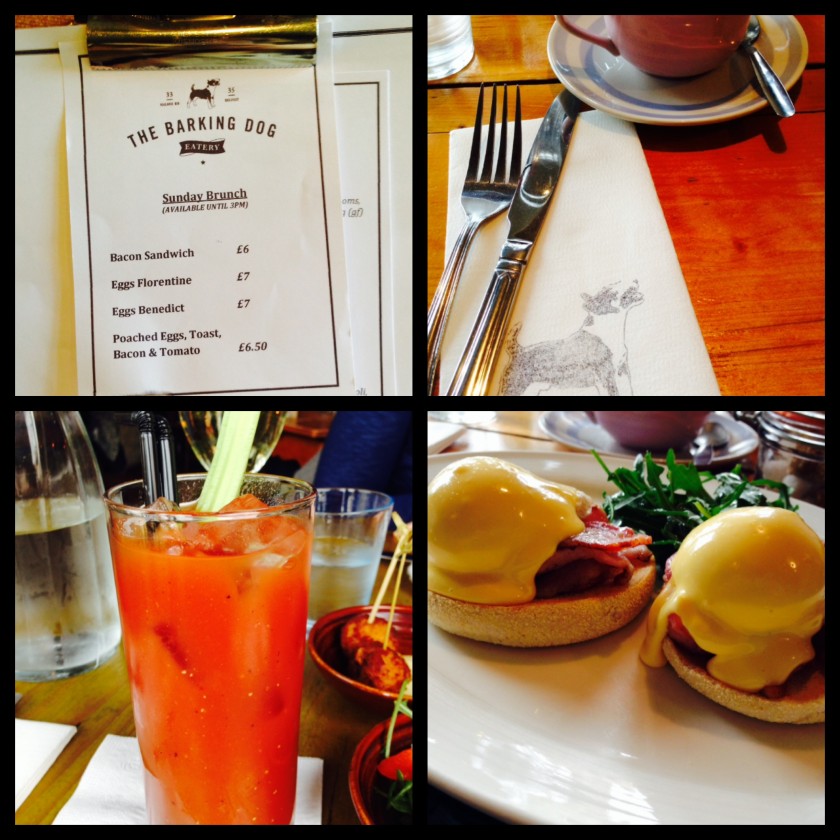 BELFAST FOOD TOUR
 
As you know, I am a bit of a foodie and I am a firm believer in the idea that in order to really know a city, you have to taste it!  A food tour is the first thing I book when I arrive anywhere new and there is nothing I dislike more than people picking odd restaurants or just not really knowing where to go. 
So, this month, I launched Belfast Food Tours http://belfastfoodtours.wordpress.com/   They take place most Saturday's (more in the summer) and they are a foodie's food tour of Belfast.  Over 3 hours, we visit 7 foodie stops, you get to meet local producers, taste their produce and find out what beautiful food we have in NI and where it's available in Belfast.  The first few tours have been great fun and I couldn't have asked for better feedback.  Most of the people on the tour are from Belfast and they've discovered new local food and foodie haunts on their own doorstop.  There is a lot of food on the tour, not to mention local beers, and people are really surprised by the range.  Here's a review of my first tour http://belfastdad.com/new-belfast-food-tour-launches/  
If you would like to book, just click here https://ti.to/belfast-food-tours  or please contact me directly to organise a group tour for 8 or more at Belfastfoodtours@hotmail.co.uk  Hopefully I can show you 'my Belfast' in all its foodie glory!