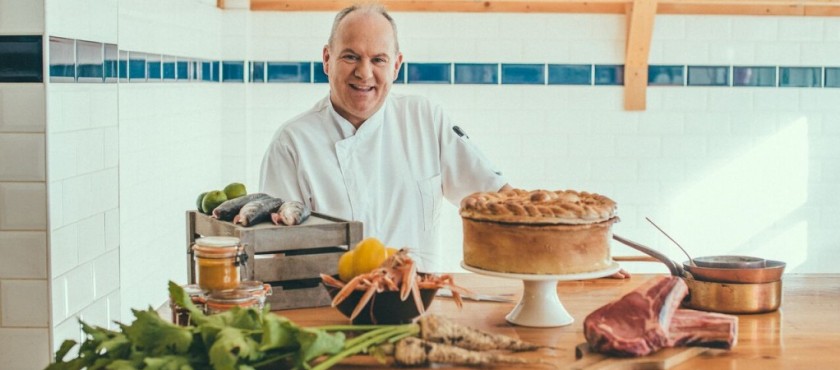 Food Festival Highlights
We have never before held a ten day event in Forestside but the Food Festival turned out to be one of the best events we have ever held and ten days proved to be as varied and interesting as it was exhausting! Thanks first and foremost to Chef Stephen Jeffers who was present throughout every demonstration and worked tirelessly to guarantee the success of the Festival. Chef, thank you so much for all your hard work. You were the star of the show and here are just some of the highlights.
Friday 6th November kicked off the event in style with demos from Andy Rea, Mourne Seafood Bar & Home restaurants. Andy cooked scallops and showed us all how to eat the perfect oyster. He was followed by Mike from Mike's Fancy Cheese who brought along some of his amazing Young Buck cheese. Stephen Chisholm, chef with Coppi/Il Pirata and previously Great Irish Bake Off Winner demonstrated how to make savoury pastry followed by Martin's Butcher's who showed us how to bone and roll our Christmas turkey...best left to the experts possibly!! Chef Jeffers finished off the evening cooking Dexter beef from Black Beef Co-Operative and Shop The Wineries astonished us all by bringing a huge amount of wines and Proseccos to sample with cheese and food from the demonstrations throughout the day. Thanks also to Dart Mountain Cheese for bringing us their incredible cheese made in the Sperrin Mountains.
Saturday was M&S day and their theme was the Star of the Christmas Table. Ronan from Moy Park treated us to delicious roast turkey joints with sampling on mall from the M&S Christmas range.
Sunday belonged to La Mon Hotel and delicious afternoon tea. Chef Colin McCreedy had very kindly brought along two vouchers for Afternoon Tea for two at La Mon and what better way to give them away than to the winners of a scone making competition. This was so much fun with Jasmine winning the young people's round and Caroline rightfully winning the adult competition. 
On to day 4 and Monday was Celebrating Seafood day. Chef Jeffers treated us all to Salt & Chilli Squid and Salmon with Wild Mushrooms while Connor Bradley from Tedford's restaurant gave us a fantastic Sea Bass dish.
Tuesday belonged to Malone Lodge Hotel and Chef Gareth who brought along the most fantastic steaks including the enormous Tomahawk steak which will easily feed two people and continues to defeat even the bravest who dare to order it for one!
Wednesday was Bakery Day with a theme of Irish Breads. Krazi Baker started the day with a wonderful demo of Irish griddle breads, seriously this man's Potato Apple bread is to die for! John Holden from Holden's Chocotier's on mall made us an amazing Chocolate Marquise Mousse cake, Lisa and Katie from Ovenly joined us and brought some of their yummy traybakes and all washed down with a delicious Johnsons Coffee. The day was rounded off by the brilliant Now Project who brought us Loaf Catering and showed us how to make the perfect Mince Pie. Fantastic day!
Thursday was Schools Challenge day and we had three great entries from Aquinas Diocesan Grammar School, Our Lady & St. Patrick's College Knock and Assumption Grammar School. These young people fought a really tough battle and produced a truly impressive standard of food. Sean, Isobel and Jude were brilliant but Isobel from Assumption triumphed with an incredible Chicken Ballotine dish. Well done to all the young chefs, we were so impressed!
Friday was Belfast Food Tours day and was hosted by Chef Jeffers and Caroline Wilson, founder of Belfast Food Tours and Forestside Food blogger. Caroline brought chefs John Mathers from Newforge House who cooked a stunning Hannon Beef with Bearnaise sauce, followed by David Adams from Bistro Este who gave us an incredible blow torched Mackerel Salad. Jonny Phillips from Coppi/Il Pirata was up next with an amazing Tynsdale Kid Goat Ragu with Pappardelle and Kim Lenaghan from Radio Ulster rounded off the evening with a full 3 courses. We had sampling from Mikes Fancy Cheese, McIvors Cider, McGrath's Beers, Co.Couture, Fulcrum and Rowlock beers, Boundary Brewing, Indie Fude; Passion Preserved and Shortcross Gin...the list goes on. What a day!
The final Saturday was Sainsbury's Day with samplers galore all over the mall and our own Mary from Sainsbury's Forestside who helped Chef Jeffers add little twists to favourite family recipes. Thanks to Tayto, Karro Foods, Scotts Bakery, Golden Popcorn, Avondale, Hovis and Mash Direct for bringing huge amounts of samples to keep people full up throughout the day. 
Sunday 15th November was our final day and what a way to finish off. Genesis Crafty, Martin's Butcher's and Johnsons Coffee treated us all to Sunday Brunch cooked by Chef Jeffers and then Afternoon Tea with demos from the Genesis brothers themselves. Everyone on mall was treated to Genesis cakes, breads and scones before Lee, Centre Manager brought the Food Festival to a close. Ten wonderful days packed with guest Chefs, demos, tastings and LOTS of amazing food. Thanks to everyone who helped to make the Food Festival possible...here's to 2016.