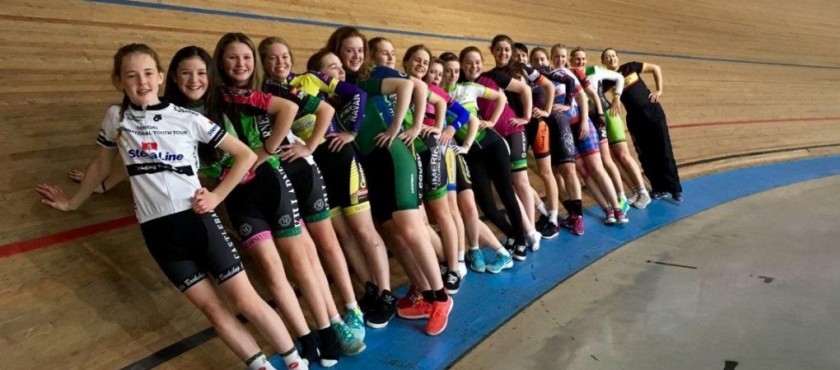 Katie's November
On Friday 30th November a bunch of young Irish girls and 6 adults met bright and early at Dublin airport to take the 4th trip by Women's Cycling Ireland to Alkmaar in Holland for a weekend's training and racing with the Dutch coach Herman Schenk at the velodrome. This will probably be the last trip for me in 2015, and it was an amazing one to end the season. From training and racing to shopping in the town and dressing up, it was Halloween after all, we did it all!
This is the third time I have been on this trip so I had high expectations from previous times and I can certainly say I have never laughed so much in 3 days before. Early Friday morning, my friend Amanda and I travelled from my house in Bangor down to Dublin to meet the rest of the girls and coaches. Our plane left on time and before we knew it we had landed in Amsterdam and were on our way to the hotel in Alkmaar. We got our rooms, had dinner and that's when the fun started. On our way down to the shops to get water we passed by a fancy dress shop with all the costumes you could think of. Of course we went in and tried everything on, took lots of selfies and then left without buying anything!
We were having so much fun we completely lost track of time until 2 of the younger girls came in to tell us we were meeting in half an hour for the bus to the track. At 6pm we arrived at the velodrome. I was absolutely buzzing to be going back onto the track since my fall in Manchester and didn't have a single ounce of fear in me from it. That first training session was just 2 hours and it was filled with teaching the newer ones how to ride the track properly and at the end we did a flying 250m time trial as a benchmark for the next day's training and racing to follow.
Saturday 31st October we arrived at the track late morning. Today's session was more jam packed and was very exhausting. After the warm up we were sorted into small groups of between 4 and 6. This was for a team pursuit of 6 laps where, in each group, one girl led for half a lap and then changed. We did this around 6 or 7 times, but after my first time with my group of 4, Herman swapped me into a group with an U23 and the senior ladies. The speed with them was considerably faster, but it was great because it pushed me more and I got great advice from our coach Orla Hendron (Ireland junior female coach) each time we did it as she was in my group too. This was very tiring after the amount of times we did it but we were all still eager to practice more. Herman then got the derny out which is a motorised bicycle for motor-paced cycling events, such as the Keirin, which is what we did. The Keirin is when the riders are in a line and the derny is in front of the lead rider, the derny sets the pace and gradually increases the speed as the laps go down. With 2 and a half laps to go Herman pulled the derny up and it was race on. I was at the back of the train so I took a risk and went for it the minute the derny pulled up although my legs were dead with half a lap to go but I am glad I took the chance otherwise I will never learn. Lastly we did another flying 250m time trial and I was pleased that even with 2 days training in my legs I managed to knock half of a second off my time from the night before.
After training we then had a late lunch at the velodrome's café and then took lots of pictures of the track and us. That evening we went shopping in Alkmaar town and we visited Hema which is a massive Dutch discount retail chain. They had lots of cool stuff we wouldn't get at home and everything was very cheap! We mainly raided its party section as we got loads of glow sticks and face paints for dressing up for Halloween later that night even though the Dutch don't celebrate it. When we went back to the hotel we all went to one room and one of the older girls did face paint for us, it was fair to say we all looked rather scary!
The next day was our final day and we headed bright and early to the velodrome for that day's racing. We were lucky this year that the races were held in Alkmaar velodrome rather than Amsterdam's otherwise we would be up even earlier to travel. My races consisted of a 15 lap race with a sprint every lap and 1st person got 2 points and 2nd got 1 point, the winner was the one with the most points at the end. Our next race was a 10 lap scratch race, which is just who comes 1st over the line at the end of the 10 laps. Then we had an elimination race known as "the devil" this is where the last person over the line each lap was eliminated from the race. And finally we had a 20 lap point's race where on lap 11 and lap 1 we had a sprint for the points. 1st person got 5 points 2nd got 4 points and so on. All these races are known as the omnium and the winner is the person who wins them overall. In track you ride up a year so this year was my last year in the U16 category, so I was extremely pleased to win all my races and then to be the overall winner!
We all came home Sunday night in very high spirits, even with the plane being delayed by 2 hours and I even got my first bunch of flowers from winning the races and all the airport staff made a joke asking if they were for them, which got a bit old by the end of the night! This will be a trip I will definitely remember from the amount of laughs and memories made and the brilliant success and coaching I received.