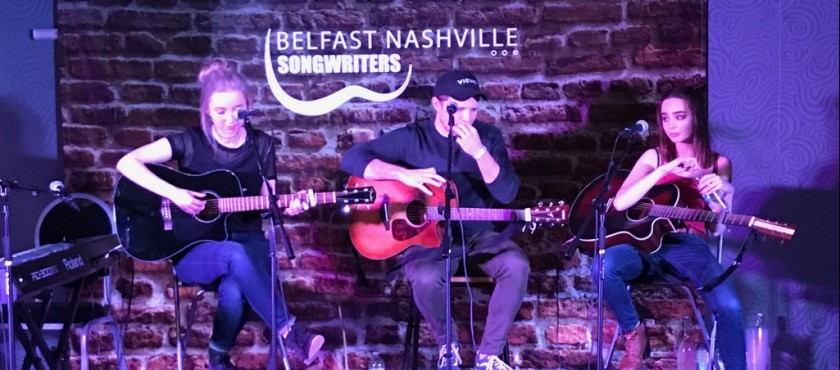 The Big Gig
Following on from our Forestside Panarts Singer Songwriter competition. Our two winners and runners up played their first gig @ The Belfast Nashville Songwriters Festival on Saturday 4th March. Here they played in front of a packed audience and shared the stage with one of America's talented singer songwriters Mac Mcanally!

The girls Sara, Lucy, Ciara shared the stage with two American university students who are also singer songwriters, Jordan Lindley & Kylie Feltenberger. Unfortunately Sacha our under 16 winner couldn't make the Forestside gig due to unforeseen circumstances… (But we did get her on the stage later that day at another gig, big thank you to Colin!!)

We have to say that we are completely blown away with these young Ladies. They were all Fantastic and we are so proud of them.
If you don't believe us please watch their performances below you will be blown away we promise!

First on stage was Sara & Lucy, both sang two of their original songs…..
Our under 16 runner up Ciara Macdermott shared the stage with American student Kylie Feltenberger
A Big well done to the girls they were AMAZING, and I am sure they would agree, that this was an experience that money could not buy!.
We would like to thank Panarts for looking after the girls and making this all possible...
If you would like to enter this year for our Forestside Panarts Singer Songwriter competition just keep checking our Facebook & Website for all the details on how to enter.
Good news due to the remarkable talent in Northern Ireland, we will be extending our age bracket from 19 to 22.
There will be two catergories, under 16 & under 22.....
This could be you next year!!!