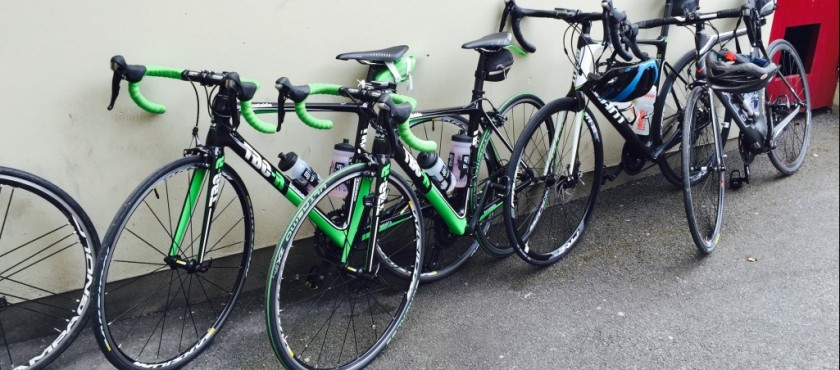 Malin to Mizen for Marie Curie.
As part of our charity partnership with Marie Curie for 2015, Centre Manager Lee and Team Forestside rider Peter alongside Marie Curie's own Anne Hannon, took on the seven day challenge of the 427 mile Malin Head to Mizen Head cycle covering the entire length of Ireland. 47 brave riders from all over the UK and Sports Ecosse Teams took on the challenge with a healthy dose of sheer determination and a combined target sponsorship of £70,500.
Day 1, Malin Head to Buncrana. After a bus journey of almost three hours the riders finally arrived at Malin Head in County Donegal and checked into the Seaview Tavern, the most Northerly guesthouse in Ireland. After meeting, lunch and registration our Team Forestside riders headed off on the first half a day's cycling. There was a bit of everything in those first 31 miles through from the rugged landscape of Malin Head to an attractive coastal section and a series of sharp hills.The first hour was fine - no wind and quite warm. Second hour what a change! Windy and rain over bleak mountain tops! It was only 31 miles but it was tough enough in the wind and with day 2 looming and possibly the toughest day to come, our guys got settled in Buncrana with food, rest and a solitary pint of Guinness.
Day two saw the 47 riders up and ready for the 71 mile Buncrana to Enniskillen stage. After a flat opening section, they moved onto quiet country roads and a challenging hill to start. The day continued with rolling hills, a few of which were challenging. It offered great views over the wonderful green countryside as they passed through Strabane, over various rivers, and then down to Enniskillen. It wasn't all plain sailing though. On arrival at the lunch stop they discovered that the landlord has absconded without leaving details of their lunch order so someone had to nip into the Spar and get 20 (yes twenty!) loaves, some ham and cheese and they made sandwiches! Arriving at Enniskillen at 5pm, the group discovered that they had so far raised an astonishing £83k thus far and still counting. What an inspiration to keep going!
Day 3 in Enniskillen started off damp and cold and our riders set off in the rain heading for Longford, 59 miles away. This was to be a flatter day than the day before but still the occasional undulation. They made their way down past many of the lakes which dominate the landscape in this part of the country. Roads were quiet and winding but better surfaces made it easier to build up a bit more speed in places as they grew ever closer to the bustling town of Longford. Once settled our guys had a quiet night and as much relaxation as possible ahead of Day four which was to be the longest ride of the trip.
Day 4, Longford to Nenagh was a distance of 84 miles but covered the flatest terrain offering the riders the best chance to make up such a distance. Despite being mainly on minor roads the 47 riders all made it safely to the historical town of Nenagh County Tipperary.
Day 5, destination Mallow County Cork and really getting into the deep South of Ireland. The mountains of the South West provided a dramatic backdrop for much of the day as the riders passed around the side of them. Despite this, the run was overall fairly flat except for a couple of hilly sections when they were closest to the mountains themselves. 68 miles was covered on day 5 and with it came a real sense that they had broken the back of the journey and were now very much on the home straight. Team Forestside picked up the prize for best Turned Out Team at dinner that evening in Mallow. Their matching bikes and Team Forestside kit won them a pair of bespoke Hastings Ducks!
Day 6 was a real mixed day for Team Forestside and the other riders. Leaving Mallow, they moved past the remainder of the mountains towards the South Coast. Lots of flat sections made up good time but also a few challenging hills were tough going for some but offered the reward of some stunning views. They reached Clonakilty elated to see the South Coast but with mixed emotions as many new friendships had been forged during the experience which was now beginning to draw to a close. 
As the riders headed west on Day 7 towards their final destination they caught some attractive glimpses of the coastline on the first half of the day but the final afternoon, fittingly, offered probably the best and most stunning scenery of the whole trip as the group approached Mizen Head.
427 miles, 16,000 ft of climbing later a fantastic group of people arrived at Mizen Head tired but delighted to have completed the M2M challenge for Marie Curie. Once completed, the riders returned to Clonakilty for a celebratory meal and then up next morning to catch the coach back up to Belfast.
Group fundraising total so far £92k and counting.