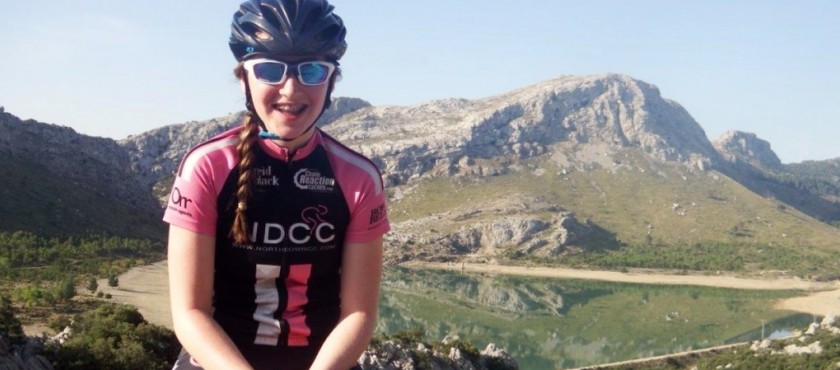 Katie's July Adventures.
Katie, our Forestside sponsored cyclist has had a really busy month with school and training and even some trips away, but training stops for no one and a family holiday to Mallorca proved to be the perfect opportunity for Katie to ride in the spectacular surroundings of the Mallorcan hillsides…not for the fainthearted!
Here's what Katie got up to last month…
'Throughout June track sessions carried on as normal and so did training. We were lucky enough to be having some mildly good weather which meant we could perform better and push ourselves more at training. Towards the end of June just before I broke up from school for the summer I went on a history/German trip to Berlin. Of course I was off the bike with no training for a week here but I could not have had a better time with my friends. On the Sunday there was a sportive up the North Coast hosted by Causeway Cycling Club. As my dad and I had regularly cycled with them we knew that, without doubt, the course would be very hilly. A group of NDCC riders went along and we were only supposed to do the middle route as some of us had to get home early but we missed the turn and ended up doing the longest route which was around 120km! This course had a few massive hills that were more like long drags, but needless to say by the end of it I was exhausted.
Then, lucky me, I was off to sunny Puerto Pollensa in Mallorca for just over 2 weeks. The weather was amazing but incredibly warm to cycle in. My dad and I rented bikes for a week and got up at 6am every other day to go cycling. The hills were incredible, nothing like what we have at home. The first day we climbed Lluc which was by far the easiest hill that we did. Since I had never climbed one these hills before I didn't know what to expect, though I quickly got the hang of it and I turned round to see my dad was well behind me. They have markings on the road which tell you how long the roads are and every time you complete a kilometre so I knew the number at the top of the hill. This was really helpful as I could count off how may kilometres I had to go. Then once we got to the top we had the fun of coming down the other end of the mountain, although we had to watch out for goats and sheep running across the roads as Mallorca is famous for it's wild goats and sheep that live on these mountains. I have never seen so many of them in my life!
Another hill we did was called Sa Calobra which means the serpent in Spanish as the road twists and turns back on itself. It had 26 hair pin bends in it! To do this hill we had to take the long decent down the mountain, once we were at the bottom we had to turn round and climb the 10km all the way back up again. This I think was my favourite hill as it pushed me a lot more than the rest of the hills. We also did Cap Formantor which is constantly up and down which allowed us to rest then do the next stage of the hill. This was a really nice climb and at the end there was a lighthouse which had a coffee shop, a welcome break in the heat even though it was little after 8am. Once again we had to take the same road out that took us to the lighthouse, which meant every downhill was now an uphill. Overall I had an amazing time cycling and would love to go back again.  When I wasn't cycling my mum and I went running we would run about 10km every other day during the week we didn't have the bikes.
While we were in Mallorca we were told 2 pieces of good news. The first was that I have been selected to ride for Ulster on the first weekend of August at the Errigal International Youth Tour which is a 4 stage race over 3 days and is very hilly. The second was also that I have been selected for the Ulster track team for the Sainsbury's School Games on the first weekend of September, which was one of my main aims this year.  Now that I'm back home, training really begins for the school games and the Youth Tour as well as the Nationals and Ulster championships all coming up within the next month. '
Amazing achievement Katie, good luck with the Youth Tour and the Sainsbury's Games and the National and Ulster Championships! We can't wait to hear how you get on.