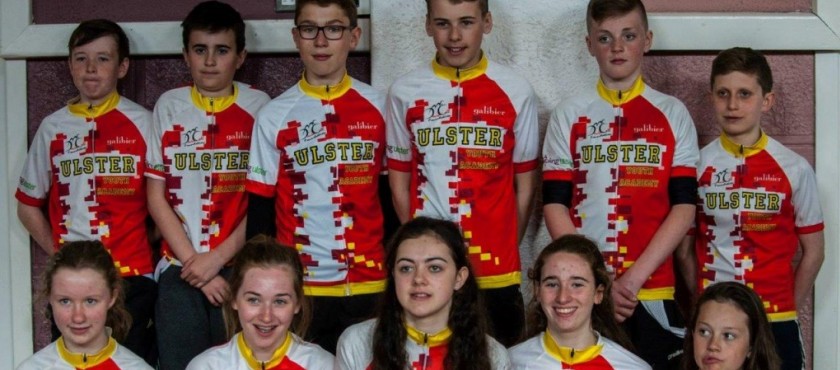 Katie's blog, May
This has been a busy month with racing. In my last blog I mentioned the Ras, a 3 stage event over 2 days, this was an extremely good weekend through which I qualified for the Ulster team to go down to Cork for another 3 stage event over 2 days on May 2nd and 3rd. After lunch on Friday 1st of May the Ulster team, which consisted of 6 boys, 5 girls, 2 coaches and 2 parents , all met up in Emyvale to start our 7 hour journey down to Cork for the next 2 days racing. The coaches had a surprise for us, we had been donated special Ulster Youth Academy team hoodies with our initials on them. The 7 hours did go in quicker than I had expected as all us kids were laughing and joking the whole way down with a stop for dinner at the town beside the B&B we all stayed in.  After sorting out what size we would get in the team kit for the next day, we all went to bed to get some sleep for tomorrow's long day, but not until after a good gossip session with all the girls. 
We had an early start on the Saturday and, just our luck it had lashed with rain all night long and all morning. After a good breakfast advised by Brian, our coach, and a team talk, we left in the coach to sign on. My race was a 22mile circuit that we had to do 1 lap of, normally our races are only about 15 miles long so that extra 7 miles made a lot of difference. Due to very slippery and wet roads and a few reckless riders, there was a crash within the first 5 miles of the race. Unfortunately a couple of the Ulster riders got involved in the crash but weren't hurt and carried on. The main bunch spilt up very quickly on a long drag about 8 miles into the race, but the Ulster squad remained strong with some finishing in the top 10 and one Ulster rider even took the win on this stage. After the 1st race we were all soaked straight through and could practically wring out clothes out we were so wet. The good thing was our B&B was right beside the race so we were all able to get out of our kit into warm clothes and go back to the B&B for lunch. We put our kit in the dryer but unfortunately they didn't dry in time so we had to wear our own club kit for the time trial that afternoon. The Ulster team were the first to set off for the race and I felt good going into the time trail after Brian had given me instructions on my warm up and giving me tips. The time trial did have some hills but they were more like drags than a short and sharp hill. It was just over 5 miles long and I was very pleased when I came over the line, especially because the heavens briefly decided to stop raining for the race. I averaged 22.5mph in a head wind for the whole time trial. When we had all finished and got back to the B&B, we showered and messed around before going out for dinner. After we came back from dinner, Brian decided to teach me how to play his favourite game… draughts. I had never played it before and funnily enough when we played draughts that was probably the most competitive part of the weekend.
Sadly it rained all Saturday night again but cleared up for Sunday morning's last race. Again it was an early start for us all. After packing our bags we all climbed into the coach to go to the last race. This race was only around 12 miles with a steep hill finish. This time the group stayed together until the hill finish where it all split. Again Ulster did extremely well with many riders finishing top 10. After a good weekend's racing ending at around 1 o'clock the prize giving wasn't until 4.30. It was a very long wait and all of us were tired and had a long journey home ahead of us. We travelled back home that Sunday night and I was very glad to see my bed that night. I would just like to thank Brian and Mickey for the whole weekend. I really enjoyed it and am very grateful, also to Paul who took all our bikes and to Nicola who acted like our away from home mum.
To round the racing off this month I was in Hillsborough competing in an under 16s only race and got 2nd girl and the next day we were back in Emyvale for another road race. Again I picked up 2nd place, despite having a cold that the soaking in Cork left me with, that I still have.
Also this month to finish it off I'm finally back at the track at Orangefield, on my new bike kindly supplied by Forestside! Training has already begun for my target this year, to be on the team for the Sainsbury's School Games in September. I have training twice a week for 2 hours on the track and sometimes 3 times a week as well. I had my 15th birthday this week and spent it at the track as it fell on one of our training nights. As we are all athletes we brought down cake and had our own celebration there. As they are picking the team in the next few weeks, fingers crossed I will have good news in my next blog.