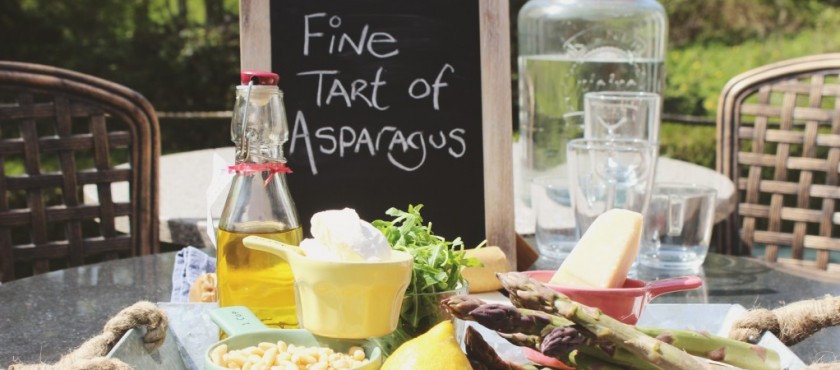 Chef Jeffers best in season.
Hi everyone. It's hard to believe that's another month over. As the weather gets hotter and nights get brighter this brings out the best in our local produce. I must say it's this time of the year that I really love cooking; not that I don't in Winter months but I really enjoy watching as the colours of our produce become more vibrate due to more day light.
Here's a little about what's in season in May...fantastic new season asparagus; yummy Jersey Royal potatoes (king of spuds); red, white different radishes; the beautiful elder flowers; wild salmon (if you're lucky enough to get one); fresh water & sea-trout & lamb (I love Strangford lamb) and much more. I've created some simple little recipes for you to try at home, for a simple dinner party without all the stress or maybe you just want to visit me @belfastcookeryschool for one of my classes and learn how to cook like a real chef.
Fine tart of asparagus, pine nuts, rocket & pecorino cheese
Serves 2
1 ready rolled sheet of fresh puff pastry (cut in two, pricked with a fork)
40g cream cheese
1/2 lemon (zest & juice)
12 asparagus spears (brushed with oil and lightly grilled)
5g toasted pine nuts (always roast or toast nuts before using )
10g Pecorino (shaved)
salt & pepper
rocket
olive oil
Method…
Simply lay puff pastry on bench and cut into equal lengths, now cut 5 asparagus spears  just a little smaller than pastry wide.
Now spread the inside of the tart with cream cheese, season well.
Place 5 spears long ways on the puff pastry, now brush with oil ,zest of lemon & season well.
Set oven to 200c and bake until golden brown, 12-15 minutes.
In a small bowl add the rocket. Dress with a squeeze of lemon juice and 2 tbsp of olive oil and salt.
Now place tart on a plate with rocket salad with shaved pecorino cheese & toasted pine nuts.
Sea trout, baked jersey royals with spicy crab, ginger & scallion butter
Serves 2
2 fillets of trout (pin boned & descaled)
6 Jersey Royals (cleaned well)
small bunch chives (finely chopped)
2 scallions (chopped)
40g Irish butter
25g white crab meat (not tinned)
1 tbsp fresh ginger (grated)
1/2 lime (zest & juice)
1/2 green chili (diced)
Method...
Make butter by placing butter in mixing bowl with ginger, chili, chives, crab & scallions.
Mix well, roll in cling film into small cylinder shape, chill in fridge until set .
Place potatoes on a layer of rock salt and bake at 200c for 15-20 minutes until brown and soft.
Now cool potatoes, scoop out middle and fill with spicy crab butter.
Cook the fillets of fish, place a non-stick pan on a medium/ high heat.
Season and oil fish with salt, oil & pepper.
Cook fish skin side down for 2 minutes, flip over to the other side for 1 minute then squeeze some lime juice around the fish.
Finish potatoes in oven while cooking fish.
Serve with zesty fine green beans on the side.
Elderflower panna cotta, gooseberry & biscuits
3 heads of Elderflowers (washed)
150ml milk
250ml cream
45g caster sugar
2 leaves of gelatine (soaked)
Fresh or frozen gooseberries (puréed)
2 tbsp runny honey
Method...
Place the milk, cream, sugar & elderflower into a small pot and bring to a gentle boil.
Drain the soaked gelatine and add to hot milky liquid.
Pass through a sieve into a glass or mould, leave to set for 3-4 hours.
Top with puréed gooseberries and honey, serve with ginger biscuits.
Ginger biscuits
100g plain flour
Pinch of bicarbonate of soda
35g butter (diced)
100g soft brown sugar
1 tbsp honey
1 tsp ground ginger
1 egg yolk
Method...
Place all above into a bowl, rub with finger tips until bread crumb stage .
Now mix into a dough ball, rest for 20 minutes.
Roll into walnut sized rounds and bake at 180c for 12-15 minutes.
Cool well before serving.
Please guys, if you have any queries on my recipes get in touch with myself via Forestside, we very much value your feed back.
Keep it simple
Stephen Jeffers