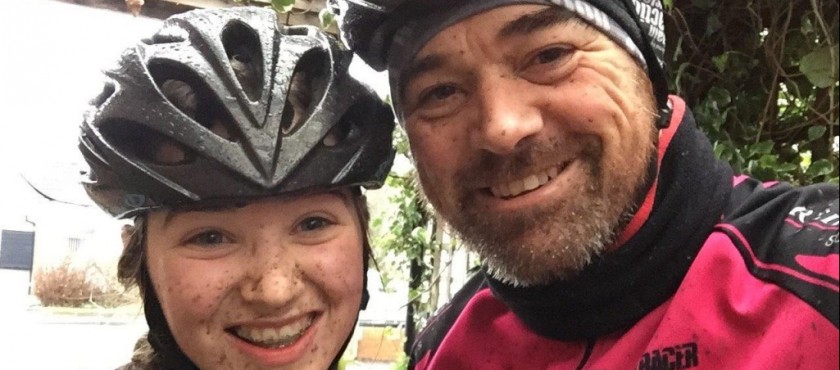 Katie ends 2015 in style.
Over the last month I have been so busy that the month has flown by. Between exams and the holidays and as the weather has got worse it has been harder and harder to train and the time finally came to swap my lovely racing bike for my winter training bike and a spin bike when I can't get out. Although stepping down the training this month has let me just enjoy cycling and concentrate on my school work.
A few weeks ago was North Downs cycling club awards night where I won a bronze medal in the time trails throughout the year and was awarded the best junior girls cup, which meant I was top female youth cyclist in my club for 2015, which was a massive achievement.
Then as school broke up for Christmas I has a busy 2 weeks ahead of me. This Christmas I couldn't just sit and relax and eat until I was sick, this year I had to revise for my GCSE mocks that began on the 4th January. Although even with the studying I still had an amazing holiday. Santa was very good to me and I had a lovely Christmas and New Year's with my friends and family. North Down do an annual mince pie run a few days after Christmas and this year they took us down completely new roads to me and up some horrible hills. But I actually really enjoyed it, it was nice to cycle on new roads and try out some new hills. Then of course don't forget the mince pies afterwards the best part of the whole day!
Then sadly it was time to go back to school with the dreaded exams! It was a dull and gloomy 2 weeks of them especially because the weather seemed to take a turn for the worst, raining almost every day and icing completely over. Over these 2 weeks my cycling seemed to take a back seat, I was just that tired, but it was nice to have a break and now I'm ready to start training for 2016.
Also on the 16th January was the cycling ulster awards night where I won a bronze medal in the road race. It was an amazing night catching up with friends that I haven't seen since the end of summer, and of course I was happy since we had cheesecake for dessert which is my favourite dessert ever!
Looking back on 2015 I had a really great year with being lucky to have the chance to represent ulster many times and going on trips abroad. I had lots of opportunities and made great friends and I have many memories that will stay with me forever. There was also a few mishaps but going into 2016 all I can do is learn from them and race harder. I would just like to thank everyone who helped me in 2015, especially Lee Cutler from Forestside and all the Forestside team for the support through 2015 and into 2016 I really appreciate it. Also for Ray Brownfield from Brownfield Bike Repairs and Restorations for continually servicing my bike and keeping me on the road. And to Brian McComb the Cycling Ulster Youth Academy for all he has taught me for the road and to Anthony Mitchell and Nicola McKiverigan for track coaching throughout the season. As well as to my own club North Down for their continued support. And lastly to my own parents for taking me training every week and always supporting me and helping me, especially my dad who takes me around the country every week for races.