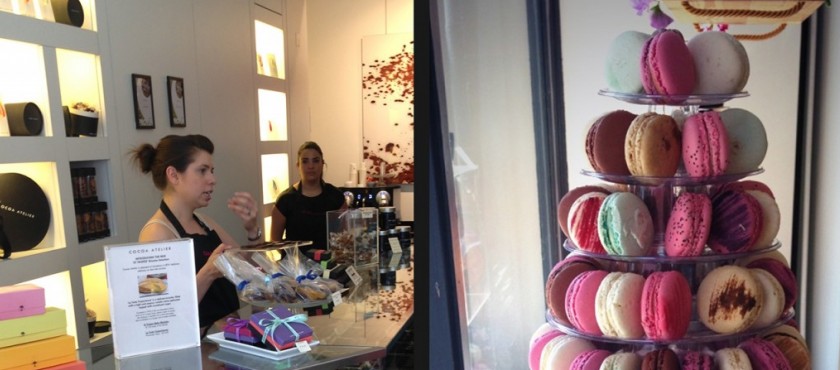 Diary of a Foodie. August
Well it's been another food filled month! At this rate, I might even have to start doing some exercise…
The foodie highlight of this month has to be the fabulousfoodietrails.ie!
I was lucky enough to have been given this trip as a present – and must say a food tour is the perfect foodie gift! As someone who has been to Dublin quite a bit recently, it was great to get the 'locals' top tips on where to go as well as covering some of the history of Dublin.
We started our tour at my favourite cheese emporium, Sheridan's (South Anne St). If you haven't been to Sheridan's (or Fallon & Byrne I might add) then you haven't done Dublin! If you don't like the smell of cheese, then I would stay away, otherwise go with an empty stomach and breathe in and sample all that this beautiful shop has to offer. They will let you taste and give you all the handy hints you need to pick the right cheese and meats for you.
The next stop was Liston's Deli (25/26 Lower Camden St), this deli has all you could want, and more to make a beautiful meal, with some of Ireland's best artisan products as well as international favourites. Their prices mean that this isn't somewhere to go with fear of leaving with five items and a tear in your eye! This is a place to buy, enjoy and repeat! They also stock lots of beautiful wines, so it's the perfect pre-picnic pick-up place (sorry, I had to get another 'p' in there!).
We moved on up Camden Street, which in itself was a revelation, so many places off the usual tourist track. We were then taken to Dublin's most sustainable building, the Daintree Building, through the stationery shop and out the back through a corridor of bamboo, to the most unique café.. The Cake Café! It specialises in local and organic fayre. We got to try a Lemon Curd Cake that I will never forget and I would add readers that I didn't think I liked lemon curd until that moment. (Funny, must be something about Dublin, the exact same thing happened when I first visited the Guinness Factory). This café was voted one of the Top 5 things to do in Dublin by Time Out and I would definitely add it to your list if you have a cake craving!
We had a brief jolly in The Swan Bar, lots of history and a 'proper' Irish bar .. you won't find an espressotini here but I assure you the Guinness is good! Blazing Salads was next on our tour, it is a vegetarian deli on Drury Street. It's one of those places that the food is so good that you don't realise it's vegetarian. Delicious ready to go salads as well as other dishes (oh and don't start me on the bread) all made by the owners .. guilt free food at its best. And they even have a cookbook! This would be a great stop to grab a lunch and eat in St Stephen's Green.
Coco Atelier was next, just across the road. Again readers, if you bought me a box of fancy chocolates, I wouldn't really be too grateful (well I do like a Ferrero rocher I have to admit) but this place.. this place.. macaroons that are so light and melt in the mouth.. sea salt caramels.. well do I really need to add anything to that.. Just go, oh and don't miss their ceiling lights!
Finally we visited Temple Bar Market. If you don't have time to amble around the city then just go here and enjoy the local food and atmosphere on offer. This courtyard is filled with stalls that would satisfy any foodie and what's even better, there's an Oyster Bar. We got to sample their oysters and some chilled white went down ever so smoothly. It's rough and ready but it's delicious!
Could I think of a better way to spend a Saturday morning in Dublin…? Honestly, no!
The Cake Café have very kindly allowed me to share their Lemon Curd Cake recipe, their cookbook is fun, retro and has all the cake goodies you could ask for! It's available to buy in most stores and on their website (cakecafe.ie)
Lemon Curd Cake
Oven 180 degrees C
8" round tin, lined with baking parchment
for the curd
5 lemons – juice and zest
4 eggs – lightly beaten
450g – caster sugar
110g – butter
for the cake
225g – natural yoghurt
1tbs – lemon juice
zest of 3 lemons
175g – self-raising flour
1 tsp – baking powder
50g – butter
300g – caster sugar
3 – eggs, separated
curd
Add the lemon juice, zest, eggs, sugar and butter into a heat resistant bowl. Place the bowl over another large saucepan that is filled with water. Bring the water to a gentle boil, whisking the curd all of the time. Make sure not to overheat as it will begin to curdle. Remove the curd from the heat once it has started to thicken and coats the back of a spoon with ease. Set aside to cool.
cake
Mix the sugar, butter and egg yolks in a bowl. Add the yoghurt and the zest of the lemon, and the lemon juice. Stir until smooth. Gently fold in the flour and baking powder. Whisk the egg whites to a soft peak and carefully fold into the mixture. Pour into the prepared tin.
bake for 1hr – 1hr 15min
Then cool completely. Cut the cake through the centre twice so you have three disks of cake. Use a piece of string to do this. Gently place the string in position around the circumference of the cake and overlap the ends. Pull in opposite directions so it cuts through the cake. Spread two of the disks generously with the lemon curd and then place all three on top of each other so the curd is sandwiched between each layer. When finished sprinkle with a little icing sugar if you wish.
Now cut yourself a big slice and enjoy… I promise you will love it!
Next time.. Forestside is 15! We are cooking with kids and more info on two of the biggest foodie events to take place in Belfast this year!