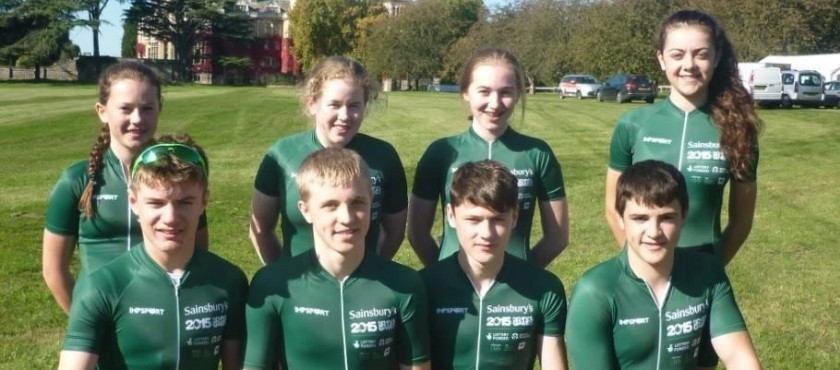 Katie's blog: October
Sorry for no blog in September, I have had lots of tests and assessments in school since I went back because I'm 5th year now and it's my GCSE year.
So at the start of September was the Sainsbury's school games, which as you probably already know wasn't my luckiest weekend, but it was also a great few days away. We left early Thursday morning and flew over to Liverpool.   Each region travelled together so we saw many other Ulster teams throughout our morning and we also shared the plane and coach with the Ulster judo and wheelchair tennis which was a new sport added this year to the games. We all may have been tired but it didn't stop us from screaming away to our music throughout the entire journey. When we arrived at the athlete's village we were one of the first teams there which was great because we could get our apartments and get signed in with no hassle.  We got to see around the place first before many others. We were staying Manchester Metropolitan University and we had a brand new student accommodation to live in for the next 4 days.  First thing we received our kit and then went to explore the athlete's village where we got our faces and nails painted.  Then it was time for dinner and travelled by coach to the opening ceremony.  My role in the ceremony was to hold the 'Ulster Cycling Sign' for the team which was great but my arm was sore holding it up until all the athletes were in the arena.  Once the Sainsbury's games was officially opened, we all travelled back to the village for a good night's sleep for the next day.   Friday morning was an early start, breakfast and out to the velodrome for 7am, for all the athletes a long days racing but for me a long time at hospital!  As you all know I was heartbroken after my accident but I insisted in staying with my team and helped out the coaches as a runner.  Even though the weekend did not work out as I had expected, I still had an amazing weekend spending time with hundreds of other athletes, speaking to our mentors and learning through watching events.  I managed to come home with a pair of scrubs after begging the hospital staff not to cut me out of my Ulster skin suit.  There is always next year to aim for.
I had a two week break as advised from doctors because of my concussion, this gave me one week to train for the UK Road Inter-regional Championships which were held in Sheffield.  My team travelled by coach and ferry to Liverpool through Thursday night/Friday morning.  I participated in an individual time trial on Friday.  Saturday was a 500 metre street sprint in the morning and a team time trial in the afternoon.  The team time trial was different to what we had done before. It involved all four girls working together where we had approximately 500 metres to build our speed up before the time started.  The first girl when as hard as she could up to a point then she dropped off. Then the 2nd and 3rd girls did the same leaving the 4th girl to finish the time trail.  The coaches had an idea what order the girls would be placed but then they also let us choose as well.  After practising both ideas, we preferred the coaches' order.  We did well as a team in this event and it was my favourite.  The last day was a 16 lap road race.  After the long weekend we were all tired from a long season racing and ready for a rest. Since then I have reduced my training to let my body recover from this year.
A couple of weekends ago I was invited to the Forestside Youth training run. It was really nice meeting then all and lovely cycling in a different area.  I hope I can come along again soon.
This Friday I am travelling to Holland for a weekend of track cycling training on Friday and Saturday.  On Sunday I will be racing against Dutch youth track cyclists.  This will be my 3rd year in a row and it is great fun. I can't wait to be back on the boards again and seeing all my friends.