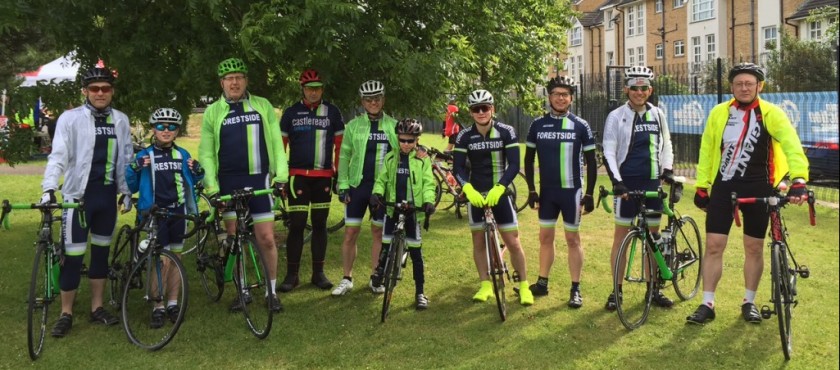 Gran Fondo and NDCC Coastal Challenge.
Team Forestside has grown so much that our riders were able to participate in two different events simultaneously at the weekend. To round off what has to be the Team's busiest week ever, the Lite Lites led by Roy took part in the Gran Fondo Strangford Route. 58km of challenging roads starting from The Titanic building and taking in Moneyreagh, Ballygowan and Killinchy before meeting the beautiful Strangford Lough for part of the return journey.  Meanwhile the Full Fat Team took on the longer but flatter NDCC Bangor Coastal Challenge, 60 miles around the Ards Peninsula stopping for lunch at Portaferry.
The Coastal Challenge is the perfect warm up for our riders who will be taking on the Maracycle this weekend, 216 miles split over 2 days between Belfast and Dublin.
The Lite Lites started very early at 7.30am with the Route Start at 8am and quite quickly found the course to be a tough one as they ascended from the Castlereagh Road all the way to Ballygowan before dropping down to Sketrick Island for their well deserved stop.
The Full Fat Riders had a much more leisurely 10am start from Bangor Sportsplex before taking off around the Ards Peninsula.
The Lite team guys; Roy, Ian, Sharon and Lucy all finished their first big challenge grateful that all the Sunday training runs had paid off. The Gran Fondo course brought them home to absolutely amazing crowds back at the Titanic Building. They proudly received medals for their achievement and even got to touch the fantastic Gran Fondo trophy.
Despite one of the Full Fat Team having a mishap in the first five miles meaning that the Team was a man down, all the other riders finished safely, in good time and in good spirits.
Well done to North Down Cycling Club for putting on such a well organised event. A really enjoyable Father's Day race and some great causes: The Diabetes/Stroke and Cardiology Units at the Ulster Hospital will benefit from the run.
And well done to the Gran Fondo event organisers, Lee particularly enjoyed giving a wave to Jamie Bill, Bloomfield Shopping Centre Manager, who was marshalling one of the junctions. The Team Forestside kit made our riders hard to miss amongst the other club colours. Good luck for this weekend's Maracycle,  at this rate our team will be glad when the season finally winds down and they get a chance to have a rest!