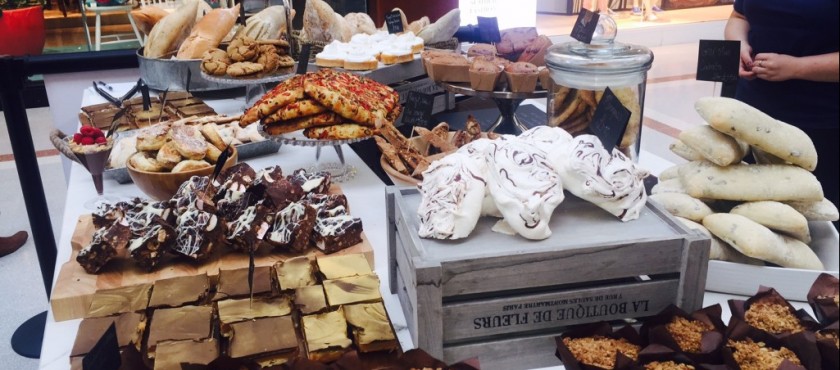 Something a little sweet for June.
Well shoppers, hope you're all keeping well and, like me, looking for some sunshine in June. So far it's been just awful. Now down to some foodie ideas, a few fantastic simple recipes for our list of abundant fresh local produce.
I wonder if you've noticed the amount of offers coming through on spring lamb at your local butcher shops, this is great value at the moment. Also plenty of fresh peas and broad beans coming through and still plenty of asparagus about but loads of strawberries small & large. I had a few little strawberries from M&S recently and they tasted outstanding, so this got me thinking of a few recipe ideas using these sweet little beauties.
If anyone was about on Saturday 30th May you might have noticed & smelt the fantastic OVENLY pop up bakery at the live demo kitchen on the mall. Not your usual Ulster bakery…they had sea salted caramel squares, hazelnut & chocolate ganache cookies, blueberry crumble muffins and a great selection of artisan breads all baked at the OVENLY bakery on the coast then transported to Forestside. I'm giving you three easy recipes; two from myself and one from the superb OVENLY pop up bakery, so get cooking guys & gals!
Oh, forgot to say OVENLY pop up is returning next month so watch this space.
Stephen Jeffers
Strawberry, basil & Pimms jelly (serves 4)
200ml hot water
30g caster sugar
300ml Pimms
100g small strawberries
10 leaves of basil (chopped thinly )
2 gelatine leaves (soaked in cold water)
Method…
1. Soak gelatine in Pimms.  Now in a small pot add water and sugar and bring to a gentle boil.
2. Squeeze gelatine well to get rid of excess liquid. Now add Pimms to water and whisk.
3. Add the gelatine to this. Place strawberries and basil in bottom of a glass and pour jelly over slowly and put into a fridge for 6 hours until set .
4. Serve with shortbread biscuits and good sorbet.
Lemon and almond shortbread biscuits.
140g plain flour
1 tbsp ground almonds
1/2 lemon (zest)
poppy seeds
110g butter
40g caster sugar
Method...
1. In a mixing bowl, cream butter and flour until light and fluffy.
2. Add sugar, almonds, seeds and zest. Bring together well and rest for 10 minutes.
3. Roll and cut into triangles and bake for 12-15 minutes at 180c.
4. Cool before serving and sprinkle with caster sugar.
Strawberry & White chocolate cheesecake (serves 8)
Stage 1
Base
100g biscuit
65g butter (melted)
Method...
Simply melt butter and add biscuit to this, place into a 10 inch cake mould and set in fridge for 1/2 hour.
Stage 2
500g cream cheese
zest of 2 lemons
100g white chocolate (melted)
2 leaves gelatine (soaked in water)
75g caster sugar
350 ml cream (whipped into soft peaks)
Filling
1. Whisk cheese with sugar until dissolved, gently melt gelatine in water. Add this to cheese mix.
2. Now add melted chocolate & fold in semi whipped cream
3. Place on top of biscuit base and set in fridge for 2 hours.
Jelly
Stage 3
40ml strawberry purée
10g caster sugar
150 ml Pimms
2 leaves gelatine (soaked in water)
1. Bring puree, Pimms and sugar to gentle heat, now drain gelatine and add to liquid until dissolved.
2. Cool this slightly and place on top of cheesecake. Place in fridge for another hour until set.
Buttermilk, honey, blueberry & apple crumble muffins (serves 4)
Stage 1
30g blueberry jam
30g apple (grated)
100g self raising flour
25g butter
25g veg oil
70g demerara sugar
10ml runny honey
1egg (beaten)
1/4 tsp baking powder
Pinch of Maldon salt
100ml buttermilk
Method...
1.Beat butter & oil well until mayonnaise like, now beat in sugar followed by eggs.
2.Add grated apple, blueberry jam and honey. Now add half of the sieved flour and bic of soda then add only half of the buttermilk.
3.Fold in remaining flour and milk gently ,place into muffin cases and spoon over crumble topping. Bake 180c for 30-35 minutes .
Stage 2
Crumble topping
25g soft brown sugar
25g plain flour
12g porridge oats
25g butter
Pinch of cinnamon powder
Method...
Simply crumble until the breadcrumb stage.