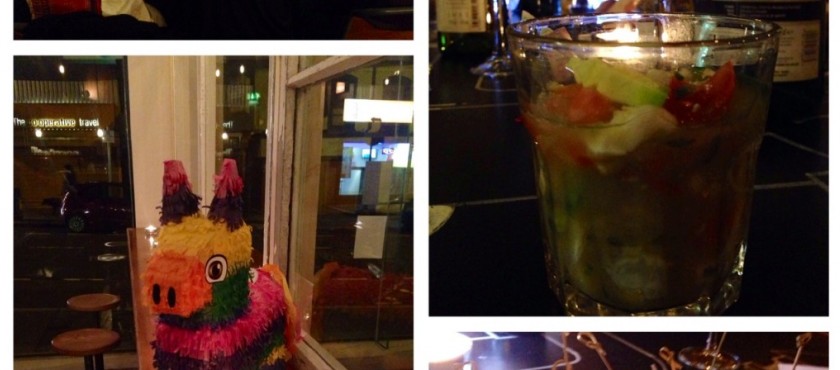 Diary of a Foodie, February.
It's been such a hectic month, I thought I would just give you a sprinkle of my foodie highlights from one weekend.
Bistro Este
Friday started with a long overdue trip to one of my local restaurants, Bistro Este in Ballyhackamore.  I have no idea why it has taken me so long to visit their new premises.  What a lucky lot East Belfast/ Ballyhackamore dwellers are!   The area, now nicknamed, 'Ballysnackamore' (get it..) has taken off in terms of great restaurants, including my favourite, Il Pirata, that going into the City Centre isn't the only option for incredibly good food.
Bistro Este is owned by Chef David Adams and his passion is clear to see.  His menu is so beautifully brought together, it makes it very difficult to choose.  I suggest dining with someone that you can perhaps have a forkful of two from their plate!
My dining companion and I started with the best baba ghanoush that I have ever tasted.. My one complaint, there wasn't a vat of it for me to gorge on! The falafel just melted on the tongue and had the perfect fresh accompaniment of a zingy mint yoghurt.  This is the type of dish I could eat forever. The other starter was a very pretty plate of ham hock terrine dressed with punchy capers and a piccalilli that sang. None of that bright yellow jarred stuff here, this was fresh and fragrant and just the ticket to go with the meaty terrine and the sour dough toast. 
We moved on to our main courses of a Lebanese lamb shank with smoked aubergine, tabbouli and pomegranate molasses.  You could've eaten the meat with a spoon as it fell off the bone with a touch. The pomegranate were punchy and again added a texture that freshened the whole dish up with its Middle Eastern musky spices.  Heaven! The catalan pork cheeks were the other main, 'unctuous' is the only word you need to understand this dish, so very unctuous.  The little cubes of chorizo in the potato croquets just added that extra interest to the comforting mash to mop up the sauce that currently, while I type this, has my mouth watering at the thought.
After all this, you would think we would have had our fill.. no no, we took on a pink peppercorn pavlova for the team! Well what an epiphany that was… the sweet pavlova took on a whole new dimension with the tongue tingly addition of the peppercorns.  It's a grown up pavlova that will keep you interested until you have, trust me, scoffed the last bite.  A really stunning dessert.
Currently the restaurant is BYO and food is great value for money.  This was a meal that the team at Bistro Este should be proud of.  With really lovely service and a delightful dining room, I cannot wait to go back.. (To book, call 028 90656976)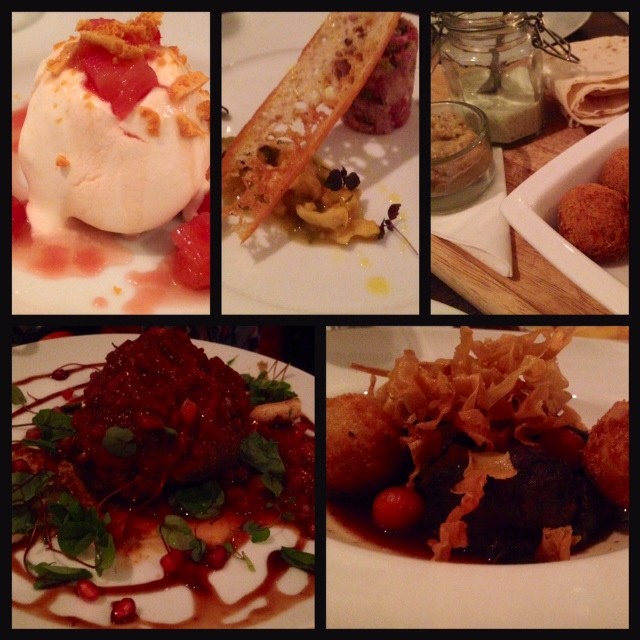 A Lovable Feast – Supper Club
Two of m'lovely friends have started an exciting new monthly Supper Club in Belfast.  The inaugural Club was based on Mexican Street food and what a night!  The diners were advised of the secret location and met with 25 other diners to a fairy light strewn premises with the friendliest donkey I have ever met!
The food was as promised, a Mexican feast – it ranged from soft and beautifully spiced pulled pork, green rice and pickled red onion to chorizo, chilli and plantain nibbles.  A highlight was the incredibly tasty ceviche as well an unforgettable dessert of Mexican wedding cookie, ice-cream, peanut brittle and homemade Cajeta, which is a goats milk caramel .. I need the recipe for this!!
It was such a lovely evening, sharing great food and meeting some new people – just a little bit of something different to your usual Saturday night dining experience.  If you want to take part in the next one, A Loveable Feast Supper Club can be found on twitter @a_loveable_feast and facebook.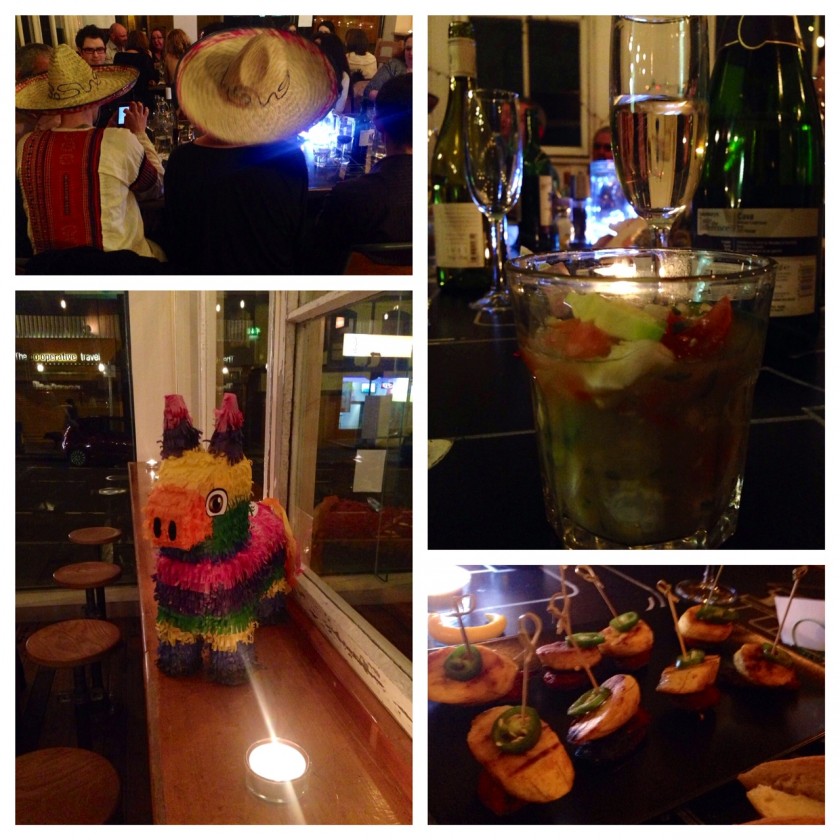 Brunch
After all this eating, and I haven't even told you the half of it, I persevered and took up a friend's suggestion of brunch.  Not one to move quickly on a weekend morning, this was a bit of a big deal, to make it out of the house without a cup of my beloved Nespresso.  But up I got, and made it to James St South Bar & Grill with the Sunday papers and managed to cope with a well spiced Bloody Mary and Eggs Arlingtons (poached eggs on a bun with hollandaise and smoked salmon to you and me).  I did make a decision though.. once the vodka and caffeine kicked in, I am going to do brunch more often.  It's so damned civilised and relaxing and actually gets your Sunday off to the best of starts!
Next time..  a ladies lunch on a barge, another brunch and a food tour of Belfast!