Stephen Jeffers: Valentine Event.
Happy new year bloggers...
So, how excited am I writing this blog and why ?
Answer -this is the menu for Jeffers at Forestside first ever live kitchen!
14th February St. Valentine Event
 First demo ...Oysters
1 o'clock-1.45pm, tasting to follow.
 Selection of Irish Oysters.
Things you should know about oysters !!!!
Oysters should only be pick with a (r) in the month.
Method of opening oysters is called shucking .
When opening oysters they should smell of the sea and be plump like a heart .
There are three types of oysters: Native,Rock & Pacific.
Classic Oyster Rockefellor was established in 1889 in New Orleans at Antoines (named after the richest man in the US due to the richness of the dishes ingredients).
Selection of baked oysters for two lovers....
Recipe...
Baked oysters- chorizo butter
4 native oysters
30g chorizo (finely diced)
pinch of smoked paprika
1/4 red pepper (finely diced)
1/2 lime (zest)
20g butter..
Method...
1. In a small pot add butter,chorizo & red pepper, cook for 3-4 minutes.
2. Now add lime zest & finely chopped herbs.
3. Open oysters,  cover oyster with spiced butter and bake in oven@190c for 3 minutes .
Tempura oysters- wasabi mayonnaise
Recipe...
4 native oysters
1 egg white
20g potato flour
20g rice flour
1/2 tsp milk powder
20 ml sparkling water
salt & pepper
Dressing ...
2tbsp good mayonnaise
1/2tsp wasabi paste
1/2 lime zest
chives
Method ...
1. Put flours & milk powder into a bowl. 
2. Now whisk on sparkling water, season well.
3. Mix wasabi, mayo, zest into a separate bowl and add chives.
Frying tempura oysters...
1. Set a fryer to 180c.
2. Dip oysters into egg white then batter.
3. Fry until crisp,season and serve with mayo in shell.
Parmesan grilled oysters
Recipe...
4 native oysters
10g breadcrumbs
5g Parmesan (grated)
10g cheese & onion crisps(crushed)
thyme
5g butter
black pepper
Method...
1. In a small bowl place crumbs, cheese & crisps; mix well.
2. Add butter & thyme, rub in with fingers.
3. Place over open oysters and bake 180c for 3 minutes until golden.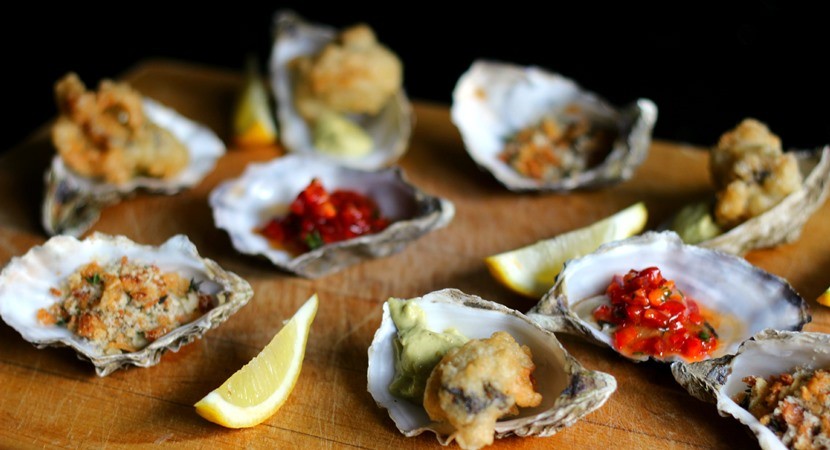 Second demo...Duck.
 2 o'clock- 2.45pm, tasting to follow.
Roast crown of duck,blue berries,orange & spice
Things you should know about duck !!
Peking duck for roasting,
Gresham ducks for confit,
Mallard for something really wild & gamey,(so different ducks for different occasions).
You should always start cooking duck skin side down in a coolish pan to render fat for crispy skin.
Roast crispy duck crown (for two)
with duck fat potatoes, red cabbage, cranberries and orange.
1 crown of Gresham duck (French trimmed).
2 rooster potatoes (Parisienne style).
bunch of Watercress.
Roast duck crown.....
Method ...
1. Season duck crown with salt and pepper.
2. Place rapeseed oil in a coolish pan and bring heat up gently. Brown breast on each side.
3. Place in oven and cook @220c for 15 minutes.
4. Now reduce heat to 200c for another 15 minutes, remove from oven .
5. Rest duck for 5-7 minutes and carve before serving.
Cabbage ...
1/4 red cabbage (finely shredded).
1 small red onion (finely sliced).
25ml port
25ml red wine vinegar
45g brown sugar
1 star anise
1/2 orange zest
40g blue berries
Serve carved duck with cabbage, potatoes, watercress & orange sauce.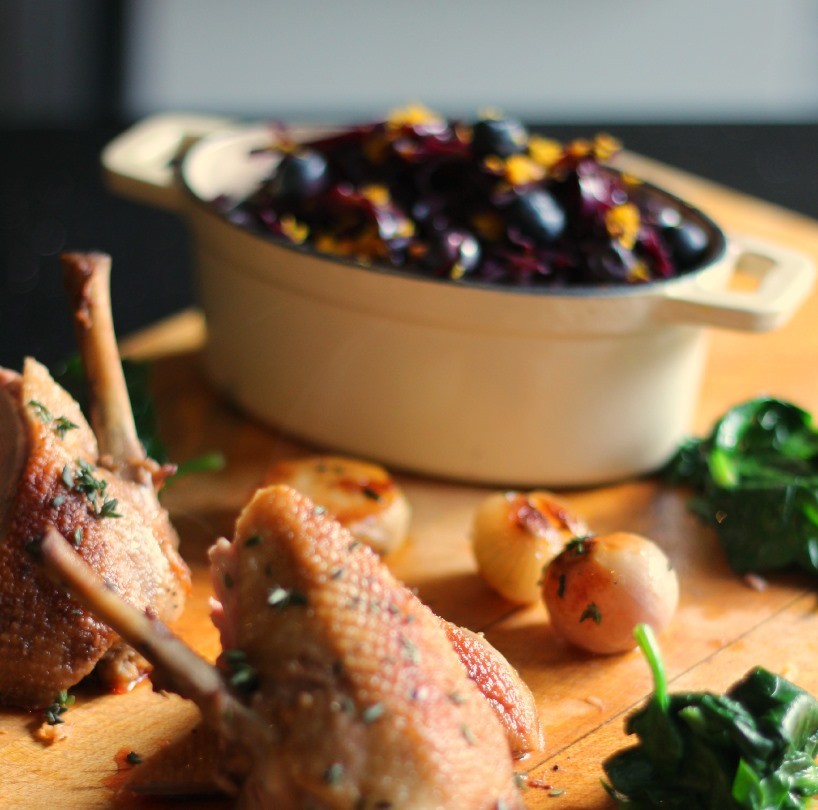 Demo three...Chocolate.
3 o'clock-3.45pm, tasting to follow.
So why chocolate on valentines day ?
The day of St.Valentine dates back to early Christian martyrs of which Valentinus was one. He was said to perform the weddings of soldiers who were forbidden to be married.
This day seemed to really catch on in England in the 18th century when lovers would send gifts including flowers,confectionary & poems.
Warm molten chocolate hearts - passionfruit  curd ...for two
Recipe...
100g chocolate (56 percent cocoa )
100g butter
80g caster sugar
2 eggs
90g plain flour
Method...
1. Melt butter & chocolate over a Bain Marie until glossy .
2. Whisk eggs and sugar until well mixed.
3. Let chocolate cool slightly ,now add egg mix slowly.
4. Now add flour slowly folding to the chocolate mix.
5. Fill buttered & floured baking tin.
6. Bake @180c for 12 minutes exactly.
Passion fruit curd....
juice of 10 passion fruits (sieved).
100g butter
4 egg yolks
1/2 lemon (zest).
140g caster sugar
Method....
Mix egg yolks & sugar in a bowl and whisk well.
Melt butter over a Bain Marie, now stir in the sugar. Mix slowly.
Add passionfruit and zest, keep stirring until completely thick.
Leave to cool before serving ....
Serve cake with curd & sorbet ....
Spaces are limited for 3 demos over the day and I hope to see you there..
Happy New Year guys xx